There is nothing more unfathomable than someone you love going missing.
But people go missing every day, and it's devastating.
The Disappearance focuses on the lives of the Sullivans after their 10-year-old son, Anthony, goes missing while on a treasure hunt on his birthday.
The Disappearance Season 1 Episode 2 jumps to years into the future.
The Disappearance Review: Birthday Boy
Anthony is still missing, and parents Luke (Aden Young) and Helen (Camille Sullivan) are still deep into the investigation.
Our exclusive clip features the couple discussing the possibility of moving on with their lives.
While Helen is ready, Luke urges her to reconsider.
If they want to get their son back, they need to focus on his recovery above everything else.
Peter Coyote on The Disappearance, His Complex Character, and His Long Career
Every day of their lives will be impacted by Anthony's disappearance until they get a resolution, so when would be the right time to consider a future without him?
Clearly, Helen and Luke differ in their opinions about it.
But while they're busy trying to tune into the same wavelength again, the restaurant they're in is all atitter.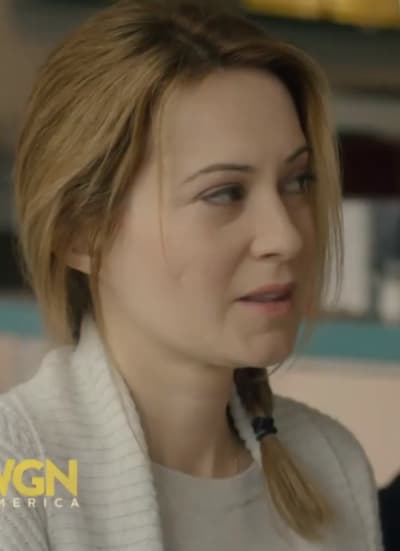 And when one of the waitresses approaches the table, it's not to take their order.
Does she have news about Anthony's fate? A clue?
Emmy-winner Peter Coyote also stars in the psychological drama as Anthony's grandfather, Henry, the man who feels responsible for Anthony's disappearance.
Be sure to tune in to see how the family grapples with the tragedy and follow along with them as they desperately search for clues as to what happened to their beloved Anthony.
The Disappearance airs Tuesdays on WGN America