On the first season finale of Dollhouse, November was released from her Dollhouse contract by Agent Ballard.
As a result, viewers were left in the dark about the future of November, as was portrayer, Miracle Laurie.
But both are back, and the actress dished on her return to Dollhouse - taking place tonight, as the character Madeline within this tri-character individual (it makes sense to viewers, trust us) - with TV Guide Magazine.
On how Madeline returns: We get to meet her really for the first time, and see who she is after the experience of being in the Dollhouse... the theme is, whether we meant to play this out or not, that everyone has the same soul. It's their minds that are being wiped and replaced, and different personalities that are put in, but I think, there is an essence for everybody that is the same throughout. I think that's the same with me. It's still [the same] November/Mellie, that we fell in love with.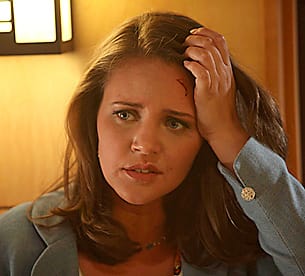 On the world in which Madeline resides: We kind of pick up and really see what her life is now. There aren't any flash backs to before. We got that from last year, that her daughter passed away and that's why she volunteered to be part of the Dollhouse. So we get to see how she exists, now that that is over for her and the contract is over and she has to live a normal life again.
The thing about all these scripts so far, is that I'm constantly surprised and blown away at how brave and smart and funny and witty and exciting they are. Our writers didn't waste a minute. Everyone's relationships are tested immediately. I'm just blown away by the season. We're not even in halfway yet. So I think the fans are going to be really, really happy.
As always, we'll recap tonight's episode in detail soon after it ends - but check out stills from "Instinct" right now and get an early preview of what's to come!
Matt Richenthal is the Editor in Chief of TV Fanatic. Follow him on Twitter and on Google+.