So, we are finally off to Belfast.
I guess I had the absolutely wrong idea about how this season was going to play out. "Widening Gyre" was the seventh episode of this third season of Sons of Anarchy, and it was the sixth in which I thought SAMCRO would be in Ireland retrieving the lost son.
Has this long wait slowed down the season? Or, instead, has it built everything up so perfectly for this showdown that is undoubtedly going to go down across the pond?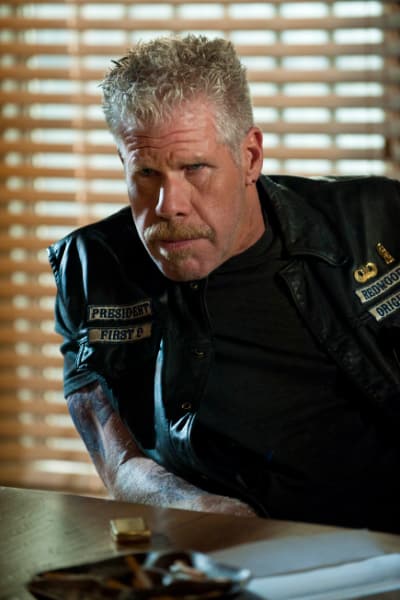 I fear that the answer is the former, but I hope that the latter is the correct assumption. Either way, this week's episode in no way disappointed as a lead in to the inevitable trip to Belfast. Between the scene in the bathroom and the final montage set to a cover of CCR's Travelin' Band, we had two of my favorite moments of the season.
I can count the number of times that I was that excited, scared and mesmerized on one hand.
The tension in the bathroom when the four gangs got together to figure things out was incredible. I'm glad things are cool between SAMCRO and the Mayans, and the Grim Bastards for that matter, because the Sons won't be able to handle any beef while they're away in Belfast.
So they probably should have killed Salazar instead of the lowly Sgt. at Arms of Calavaras. This Salazar dude is now a dangerous factor, after spotting Tara pulling out of the driveway, you have to expect something to go down between them. I'm sure he's got it in his mind that he's gonna mirk her, but I don't see Sutter killing off Tara. I definitely expect Tig being left behind on the trip to play a major factor. Maybe he steps in and saves Tara from getting killed. That would definitely be a nice payoff after he so horrendously butchered the Donna thing back in season one.
Speaking of Tig staying behind, that final montage scene set to Travelin' Band was so exciting and unlike any other momentous scene I can remember in Sons of Anarchy history.
Most of their big musical moments have come from slow, emotional numbers. This upbeat tune fit so well with both Tig driving the chasing "piggies" up state, and with the rest of SAMCRO taking off on a plane to Belfast. It was a great, somewhat happy moment before some terrible things likely go down in Ireland.
After a week off from seeing what is going down in Ireland, Maureen, Jimmy O and the gang came back to our television sets this week. I still can't understand a word they're saying, but they're back nonetheless. From what I gathered (via an online accent translator), McGee is a double crossing S.O.B. We knew that the Belfast number two, O'Neill was in bed with Jimmy, but McGee? Of the First 9? What would Piney have to say about this?
So Clay had everything set up so that SAMCRO would get into town, be able to surprise Jimmy O and get to the bottom of everything, and eventually find Abel. Well, now that McGee has told everything to Jimmy O, the boys from Charming are now set up to be ambushed once they step foot on the ground. This should get exciting.
Also in Ireland, Gemma found out some startling news from Maureen Ashby. Sure it was easy for us to expect that Mo's daughter Trinity was the child of John Teller, but how was Gemma to ever know that. I mean, you see a kid in the picture, you know that Mo and JT had a fling, and we put two and two together. But Gemma? She had no idea this was coming, and it hit her like a ton of bricks. I guess throwing up in a trash can is a step up from having a heart attack in a parking lot, but I wouldn't have been surprised if she went for round two after hearing that news.
I knew John Teller was going to play a major role in this season, I just assumed it would have to do with Jax and Clay's relationship, not some weird Gemma/Maureen/Jax/Trinity quadrangle. It should make things interesting if and when they all meet in Ireland. There's no way Jax doesn't find out about this, and when he does, I'm sure I will love his reaction.
Like Gemma told Tara about her current pregnancy situation, "Secret babies are a bad idea." I suspect this secret Trinity baby from 1988 is going to cause some major issues around SAMCRO.
See you in Belfast.
Other Thoughts:
The new prospects are off to a good start. Their lines are minimal, but when they do chime in, it's been funny.
The blow up involving Jax, Tara, Ima, Opie and Lyla post Jax/Ima hookup was great. After last week's focus on Jax and Tara's situation, I'm glad this week's episode didn't go back to that too much. Jax claims he's protecting Tara, and she thinks he's just coming up with an excuse to bail. They're both probably half right.
Clay calls the Belfast crew SAMBEL, am I right? It doesn't make much sense as an acronym, but I still like it. (Sons of Anarchy Motorcycle Belfast?)
Although Jax is pushing Tara away, I'm glad to see it hasn't put a wedge between Gemma and Tara's relationship. The two of them continue to bond, and their ruse to get Gemma out of the hospital was truly inspiring.
It's amazing how SAMCRO and Gemma can make Unser feel so bad about upholding the law. When you take a step back and think about how they treat him, it's pretty sad.
I've really been excited recently since Opie stopped wearing the black cap so much. He looks really cool with his hair pulled back, but for a split second this week, we saw him with his hair down and it was even harder. This dude is awesome.
As my brother mentioned to me a couple weeks back, how awesome would it be to own the screen printing shop in Charming? These guys have more shirts, hats, jackets and the like with their logos on them than any group I've ever seen. My favorite this week was Jax's blue shirt with just the reaper on the front and "SAMCRO" on the back.
Dan Forcella is a TV Fanatic Staff Writer. Follow him on Twitter.