One Tree Hill Review: Thanksgiving in Tree Hill
Dan Forcella at .
How do you break up a run of sub-par episodes? Bring everyone together for a holiday, of course! It was Thanksgiving in Tree Hill this week, and "Between Raising Hell and Amazing Grace" was simply an enjoyable hour of television.
Everyone in this small North Carolina town was planning on having their own Thanksgiving dinner for some reason. I mean, they do everything else together, why wouldn't have one big Thanksgiving celebration together to begin with?
For one reason or another, everyone and their mothers ended up at the Scott's house for Turkey Day. Well, except Chase, who spent the holiday at Tric getting drunk and making Thanksgiving inspired cocktails. Brooke destroyed her turkey and Skills ordered a live bird by accident, so their respective groups made it over to the Scott house. Mia, Alex and Victoria were invited by others.
That's right, Victoria is out of prison and on a Brooke rampage. Julian's mom invited her and Brooke wasn't too pleased to see her. As much as I would probably never forgive my mom for what Victoria did, I love the idea of Sylvia wanting her daughter-in-law to give the ex-con a chance.
Also, there was corn hole, there was a fantastic game of touch football and there was food. A lot of food.
That football game was great for two reasons. First, there was Julian being the last one picked. Although this idea was completely obvious and over the top, it still put a smile on my face. It might have been my second favorite "picking teams for football" scene in TV history. The first, of course, being the Kirk Cameron-filled
Full House
episode, "Just One of the Guys."
The other reason that football game killed was for the major c-c-c-cat fight between Mia and Alex. You see? This is the type of action I was expecting to get when this love triangle first graced us with its presence: two of my favorite females on the show clothes-lining and punching each other in the face
At the end of the day, though, I loved Chase's best Kelly Taylor impression, as he actually "chose me." Well, not me, but himself! Both Alex and Mia are great, but I completely agree with his decision. Both of them were kind of jerks to him. On the other hand, they are hot and famous, so what were you thinking Chase?
Just before dinner, Quinn makes her triumphant return from her African photography job. It's a grand entrance, but she quickly leaves to go spend time with Clay. She seems to being doing fine until she sneaks off into her green room to develop pictures of the stalking shooter. Is she up to some revenge? Or is this just her way of dealing with the pain? I'm scared.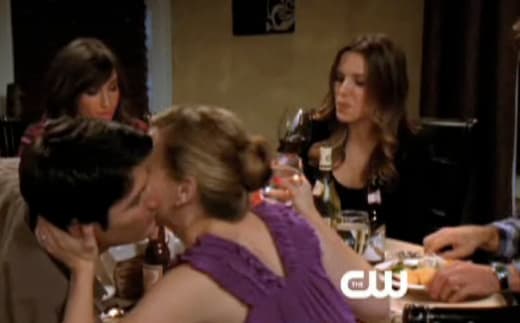 Other Thoughts:
Back to starting the episode with "Dear Lucas." Maybe that's why it was a vast improvement.
Or maybe it was the fantastic directing by Bethany Joy Galeotti. I'd like to credit Nikki Schiefelbein, who received her third written by credit in series history. Well done.
Here is where I give another positive review of the opening theme song. This week it was performed by WAKEY!WAKEY!
I loved the subtlety behind the first mention of Skills having the hots for Julian's mom. Julian asks Nate if Skills is serious, and he simply replies, "Yes, he's serious." There's no need to bring up Deb. We all know what went down.
I wonder if anyone ever told Alex that her controller wasn't plugged in during that game of Guitar Hero because there was nothing coming on her side of the screen as she rocked out with Jamie.
Dan Forcella is a TV Fanatic Staff Writer. Follow him on Twitter.