While there was nothing fresh or different about this episode of Lie to Me, when you have a show this well-written, you don't need major changes each week to make for an entertaining hour.
On "Gone," we got to watch Cal Lightman do what he does best: Shake people up until they lose control and forget to hide their emotions. I think the writers sometimes forget that this is why we watch the show. The result is that we occasionally get episodes where Cal helps a war vet remember repressed memories using virtual reality, or helps Alzheimer patients remember a murder.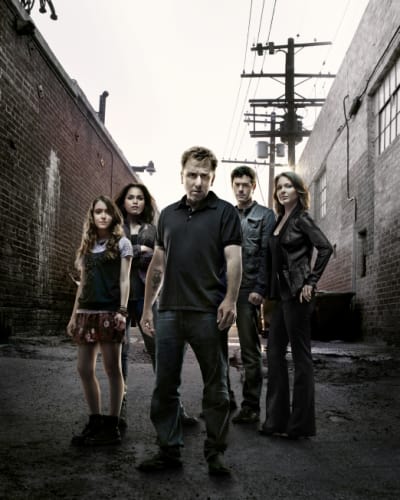 Don't get me wrong, these are good episodes. But this week was about one thing: Finding who took a baby, using only the faces and emotions of the people involved as evidence, making it one of the best episodes done to date.
My hat is off to Kathleen Rose Perkins, who portrayed the distraught wife and mother, Collette. I only recently became familiar with Perkins, as she is a regular on
Episodes
, though she isn't asked to do much. However, after this episode, I was blown away with how much emotion she can project.
The biggest confusion for me was the need for the story to have Lane (the husband) appear to be an abusive and controlling man, only for this to prove to be a fake-out, as he breaks down crying in the middle of the episode.
Why not just start the episode out with him being dedicated to his family? Why put in all the tension in the opening scene if you're just going to change it up twenty minutes later? What point did it really serve?
After watching it a second time, I kind of feel that it was similar to a badly done magic trick. The illusion of abuse was there as smoke and mirrors to distract us from the one key scene of LJ being jealous when his dad stops to pick up Kim before commenting on his achievement.
Actually, if they hadn't thrown the red herring at us with Lane possibly being abusive, we would have seen that it was the son throwing a tantrum for attention much sooner. So I guess in the long run you needed to have some sort of distraction and this one worked as well as anything.
Lastly, I want to mention how I really liked that Anna has started showing signs of picking up some skills from Lightman. It's so easy to forget that she is there, day in and day out, and there is a good chance that some of the tricks they used will rub off.
What did you think of this week's episode? The official eating count for this week: just one time total, when he had cookies with Emily. Good job, Cal, it was nice to be able to understand you.
Jim G. is a TV Fanatic Staff Writer. Follow him on Twitter.