Gossip Girl Rewatch: O Brother, Where Bart Thou?
Leigh Raines at .
Despite the depressing nature of Gossip Girl Season 2 Episode 13, it was a very strong follow up to "It's a Wonderful Lie."
"O Brother, Where Bart Thou" explored the relationships of the GG characters during a time of grief.
The sad dramatic moments on teen shows are often about stealing boyfriends and broken hearts and friendships, but this was a whole other level of loss.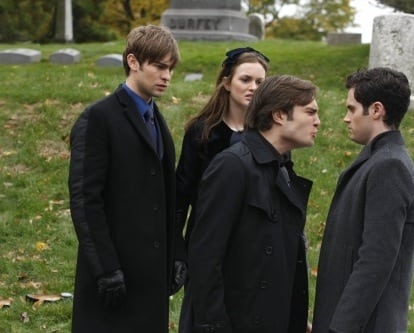 Granted we all now know that Bart faked his death, but at the time his family and friends were truly mourning. None more so than Chuck despite how horribly Bart treated him over the years.
Ed Westwick did a great job expressing Chuck's pain in a way that only Chuck would. Whether it was getting wasted or getting in Dan's face, he remained true to his Chuck-ness. Until the end...when he showed up in Blair's room in tears and I swear my eyes got a little bit misty even 6 years later!
Blair was in amazing form for this episode. I love when Nate called her out on nuturing ways.
[to Nate] I'm not maternal, I've just been spending too much time with Cyrus and I'm turning Jewish. Come on, I see kugel.

Blair
Everything about that statement was so on point. Cyrus helped Blair become a warmer person because he helped Eleanor become a warmer person. Remember in early Gossip Girl season one when Eleanor would basically encourage Blair's anorexia? Now Cyrus is telling her to schmear some more cream cheese on that bagel and she is happy to do so. "Not enough!"
Can we just take a moment and acknowledge that Serena is dressed for the club and not a funeral? Also another moment to acknowledge how un-surprised we are by it all? Okay good.
People handle grief differently and for some people it makes them open up to love and appreciate the good moments even more. Eleanor and Cyrus got married. Lily wanted to seize the day with Rufus.
Too bad there was a huge roadblock on that path to Cornwall with Rufus and that roadblock goes by the name of Cece Rhodes. I remember being SO excited to find out why Lily was in the institution in France.
Cece: I gave her a chance to tell you. She didn't take it. In fact, she asked me to pay a lot of money to make the problem go away.
Rufus: But you didn't do that, did you?
Cece: The real problem is that she's in love with you.
Rufus: Why is that a problem?
Cece: Because so long as she holds on to this, the two of you don't have a chance in hell of making this work. I want you to have this chance. Don't you?
BOOM! Lily and Rufus had a love child. I couldn't even handle that moment. It was more than I had hoped and I didn't guess it for one minute.
Now onto you all.
Were you shocked at Lily's secret?