Blue Bloods Season 5 Episode 3 Review: Burning Bridges
Christine Orlando at . Updated at .
Everyone had their crosses to bear on Blue Bloods Season 5 Episode 3 as Jamie took on another detective, Danny was faced with homophobia within his squad and Frank had to decide which side he was on.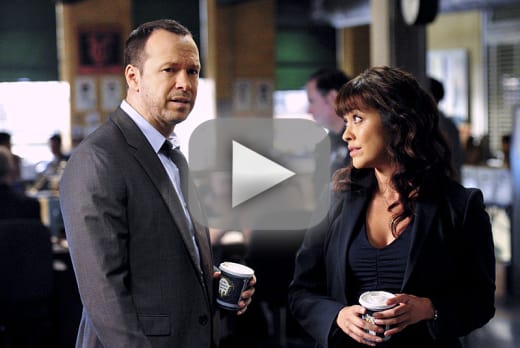 Danny and Baez ended up with new, temporary partners when Detective Alex Fuentes was outed as a gay man when he stepped in to stop an attack outside of a gay bar. As difficult as it made things with his partner, I think I felt worse for the man because of his family's reaction as his father told him he would never be allowed home again.
As Baez tried to explain to Danny in this Blue Bloods quote...
The culture he's from, I'm from. There is no this day and age when it comes to being gay.

Baez
It's truly sad that some people must choose whether to hide who they really are or risk losing their family and friends.
The homophobic Police Chief in Jersey seemed to make even Detective Demarest's skin crawl. it was little surprise to find out that the man's grown son was the one who killed Martin with the baseball bat because he was gay. Hate breeds hate.
The case managed to get even Frank into hot water as he tried to answer a question about his religion's view on homosexuality. Even a supposedly good Catholic like Frank had to admit that the church was behind the times on this one. Not that Frank regretted what he said, just that he'd said it at all.
The Cardinal came across as nothing more than a weaselly politicial in fancy robes as he pressed Frank to issue and apology and let the fate of a school hang in the balance.
It all made for a great family dinner that kicked off with Henry expressing his own unique opinion about Danny's case...
Anyone who steps into a fight involving two mooks with baseball bats can't be a cissy in my book.

Henry
For Henry, this was to be considered a compliment but I don't think the rest of the table agreed. What was most entertaining was watching everyone's heads go back an forth as though watching a tennis match as Henry and Frank argued the point back and forth.
Finally there was Jamie, who lost a collar to Detective Hoffman while he got his head stitched up. I wondered if Jamie was truly willing to steal one of Hoffman's arrest in retaliation. As Erin pointed out, was it fighting fire with fire or two wrongs don't make a right. In my opinion, it was both.
In the end, Jamie made Hoffman look like the ass that he was and he did it with class and dignity. There aren't many people who can pull that off.
So far, one of the best things about Blue Bloods Season 5 is that the stories are much more balanced. I understand that not every member of the Reagan family can have the spotlight each week but it's great to see Jamie getting more screen time where in the past this felt as though it was becoming the Danny Reagan show. What do you think Blue Bloods fans? Do you agree.
Don't forget, you can always watch Blue Bloods online right here at TV Fanatic.
C. Orlando is a TV Fanatic Staff Writer. Follow her on Twitter.