Hawaii Five-0 Season 5 Episode 9 Review: Longshot
Amanda Wolf at . Updated at .
After a two week hiatus, fans were finally treated to another episode of Hawaii Five-0. Unfortunately, the show will go on another hiatus until January 2nd, but at least we got to see a touching Christmas episode and the saving of the majestic horse, Urban Myth.
When Hawaii Five-0 Season 5 Episode 9 started I was sure that we were watching the Val Kilmer movie Red Planet. Instead, we were watching the High Seas Group conduct a Mars simulator in Hawaii. It was an eye-catching way to start an episode and had me hooked on where the case would go.
How does a cowboy end up dead on Mars?

Lou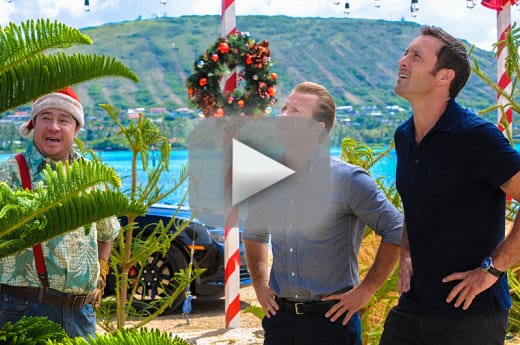 Before diving into discussing the case, my favorite scene has to be Steve and Danny going Christmas tree shopping. However, getting a one hundred dollar discount was still out of their price range, and Steve decided it was best they steal a tree instead.
The scene reminded me why these two are one of my favorite male buddy pairs on television, but I do think Danny stole the show. The only reason the duo had to steal a Christmas tree is because Danny waited too long to buy one and was left with slim pickings. Danny's paranoia while Steve was cutting the down the tree was hilarious to watch and so true to his character.
Steve: It is Christmas Danny. Alright, you and Gracie need a tree. You want a tree?
Danny: I do. I want a tree, but not like this.
As the two drove away in Steve's car with their loot, stealing the tree still was not sitting right with Danny.
Danny: I cannot believe you made me an accomplice to a crime.
Steve: A victimless crime.
When Steve mentioned he could not take another case because he had a meeting with the governor, it became clear he was going to be sitting a lot of this episode out. This turned out to be a good thing, as we got to see a lot of Kono and Danny.
Did anyone else love how Kono showed off her rodeo/tying skills by capturing that suspect? Danny and Kono got even better when they discussed Grace no longer believing in Santa Klaus.
As the case started to develop, I really started to wonder what was going on. The team found horse blood in a refrigerator and people were being poisoned with liquid nicotine. If the case is not about revenge, as Captain Grover said, then what is the motivation?
Things started to make sense when the horse blood was matched with that of a famously stolen race horse named Urban Myth. At first I was left to wonder if there are samples of horse blood on file, but it was a Kentucky Derby worthy horse and certainly worth thousands of dollars.
Urban Myth was a hair away from death before being saved by the Five-0 team and was sweetly reunited with its owner. Even though it came off as cheesy, the horse was beautiful and it was impossible not to feel empathy for the horse and the owner.
At the end of this installment Danny stole the show again with scenes between him and Grace talking about the Christmas tree. Sometimes it can be hard to believe that the team has lives outside of their work, especially in this episode when they were so close to working through Christmas Day. It was great to see everyone together at the end and celebrating Christmas Eve with a stolen tree. Although Steve and Danny still have to pay that fine (and they should pay it for cutting down a protected tree).
The storylines felt dynamic and balanced in this episode, with a lot taking place on the sidelines between Max and Sanjid. It was a strong and entertaining way for the show to go on another hiatus for the holidays. Merry Christmas fans!
What did you think of this Christmas episode? Did you like the case this week? What was your favorite scene?
To hold you over until January you can watch Hawaii Five-0 online via TV Fanatic!