The Mentalist Season 7 Episode 10 Review: Nothing Gold Can Stay
Christine Orlando at . Updated at .
The shooting of one of their own had far reaching effects on the team on The Mentalist Season 7 Episode 10.
Will it mean the end for Jane and Lisbon?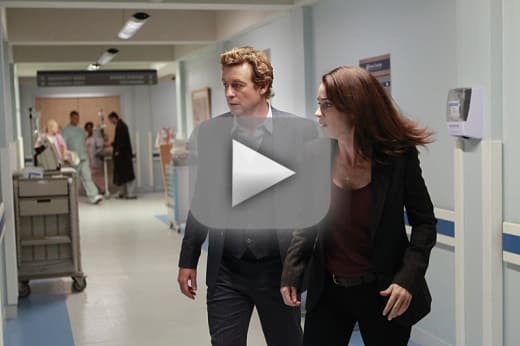 After last week's teaser promo, it was clear that someone was going to die in "Nothing Gold Can Stay" and honestly I wish they hadn't let us know. It would have been far more powerful if the death had been a total surprise. Instead, it was obvious that Michelle Vega's life was about to end when she and Cho entered that diner.
Believing that Vega could see that one heel of a man's shoe was an inch taller than the other from across a crowded restaurant while he sat at a table in the back was a bit of a stretch but I'll have to let that one go. With only two men at the table, it was no surprise when the third one popped up and started shooting.
Cho was horrified when he saw Vega bleeding out on the floor but he still maintained his composure and fought to keep her alive. Much like in the car moments earlier where Vega was razzing him for not being more excited about his promotion, whether it be the best of times or the worst, Kimball Cho is steady as a rock.
Listening to Vega ask Cho, "Did I mess up?" as she lie there bleeding was truly heartbreaking. Even while dying she was still looking for his approval. And the only time we saw Cho's composure begin to slip was when he looked at her photo on that computer screen and had to call her aunt to tell her Michelle Vega was gone.
The person on the team who I felt for the most was Wiley. He had been so excited. He finally found the courage to ask Vega out on a date and she had said yes. He even went so far as to ask Abbott for advice and once again, Abbott knew exactly what was going on with his team without having to be told. He even gave Wiley great advice about how to pick a restaurant and to just have fun.
But instead of a date, Wiley had to get dressed up to go to her funeral. I wanted to give him a hug as much as Lisbon did.
Mourning their young colleague took a back seat to finding her killers. Abbott was willing to give Jane's plan some leeway until he thought the hostages might be in danger. That's when they decided to send in SWAT and Jane would have sat back and watched if it wasn't for the fact that Lisbon was going in with them. Watching Lisbon put her life on the line was more than he could handle. He'd rather walk into the line of fire himself.
As much as Teresa thinks she understands Jane's fear, I don't think she truly does. His fear of losing the woman he loves, especially to violent means once again is downright visceral. Somehow I think that every time he knows Lisbon is in danger, he's mentally walking into the room where he found his wife dead with a bloody smiley face painted above her and reliving that overwhelming terror. The reality of the situations might be different but emotionally for Jane the end result would be quite the same.
So as everyone finally mourned Vega at her funeral, Jane and Lisbon hit a crossroads in this The Mentalist quote…
Teresa Lisbon: You can't keep pulling me from the path of oncoming trains.
Patrick Jane: Yeah, why not?
Teresa Lisbon: Because there's always new trains coming.
Jane's solution was to get away from the tracks. When he told Teresa, "I'm leaving. You can come with me or you can stay here…but I have to go," it was a devastating moment for the both of them.
Patrick Jane can't live this close to the possibility of violence any longer. Teresa Lisbon has spent her entire adult life in law enforcement. I'm not sure she knows who she is without it. So where does that leave them? I honestly don't know but with three episodes left I can only hope there will be blue skies somewhere ahead as we move forward.
Don't miss a moment of the final season. You can watch The Mentalist online now at TV Fanatic.
C. Orlando is a TV Fanatic Staff Writer. Follow her on Twitter.