Criminal Minds Season 10 Episode 17 Review: Breath Play
[email protected]

at . Updated at .
Kate Callahan is expecting!
Unfortunately, this news created a schism with Meg, who acted out by getting her belly pierced.
Kate, as yet, doesn't know how dangerous this conflict could get, with Meg's stalker still out there. Meg is going to want to run straight into the arms of the supposed "college kid" she met online just a few episodes ago.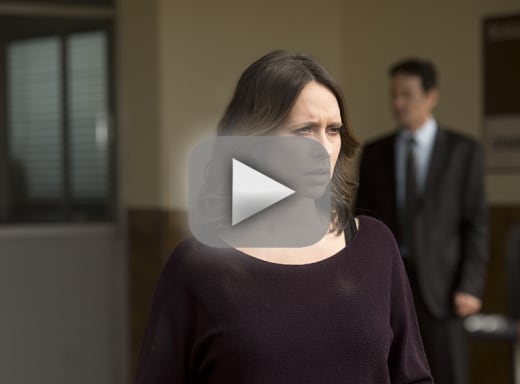 On Criminal Minds Season 10 Episode 17, the team was called to investigate three murders involving women who were tied up and seemingly sexually assaulted prior to being strangled to death.
Only, as it turns out, the victims were somewhat complicit in that much of the rough sex - including some of the strangling (also known as "breath play") – was consensual.
Right up until the part where he killed them, at least. I'm sure they would have protested that part, or given him the safe word... if they'd had breath to do so.
Right from the start, it seemed that Rossi knew a whole lot about the BDSM variables of the case, more than you would imagine an FBI profiler would normally know. Though he doesn't have Reid's eidetic memory, he came off as the Rain Man for all things BDSM related.
The only clue he gave about his bondage shenanigans was this:
Rossi: What? I dabbled my senior year.
Kate: Ah, college.
Rossi: Ah, high school.
....which of course Kate found vaguely disgusting.
I don't buy his explanation, either. The mistress of the club they visited seemed to recognize somewhat of a kindred spirit in him. Plus, he'd read the book "Bare Reflections" and knew the passages all too well.
I'll just bet he and Garcia could have a very interesting conversation about it all. If you'll recall, she was somewhat of a goth girl prior to her joining the BAU. It wouldn't be surprising at all to learn she'd been at least within kissing distance of that community.
In case you missed it, he pulled up the name of that club within seconds of someone asking for it. Oh yes. That guy's been around the block.
And speaking of "Bare Reflections" – just before the name of the book was announced, I fully expected the words "Fifty Shades of Grey" to be referenced. Of course, in hindsight it makes sense that they couldn't use that particular book.
Still though, you have to wonder how tempting it was for the writer to want that.
As much as the team tries hard not to judge (except in cases of criminal activity, obviously), JJ seemed to give off a sense of condemnation regarding the married people's cheating website Ashley-Madison.
It's not surprising, as the unsub eventually gravitated to people who would frequent that site, or sites like it, in order to feed his addiction. While no one wants to play "blame the victim" – there's a sense that had they stayed true to their spouses instead of straying, they might not have found themselves in his clutches.
Ultimately the common element to the case of the week, both for the victims and for the unsub, was their ugly sexual peccadillos. Or as Rossi put it:
There is hardly anyone whose sexual life, if it were broadcast, would not fill the world at large with surprise and horror - W. Somerset Maughan

Rossi
The family's nanny Charlotte echoed my own take on the book (which probably was a proxy for "Fifty Shades of Grey") when in disbelief she blurted out did you just quote that lame-ass Bare Reflections?
Final thoughts:
There were some surprisingly funny moments in the show. Like the scene where Rossi said nobody has sex for six hours, not even Sting.
JJ's advice to Kate on playing music to her baby so as to drown out the crazy stuff the BAU discusses was capped by her note that Reid insisted she include Mozart in that playlist. Go Reid!
I didn't understand why the night vision goggles became part of the sex play.
It was hard to have any sympathy for the unsub's wife, who just seemed to be missing clues all over the place. Including the hints that her daughter wanted to talk about their nanny. When she ran to her daughter's arms at the end, I thought, "yeah, a little late now, mom."
Jennifer Love Hewitt announced in January that she is pregnant.
The next episode - Criminal Minds Season 10 Episode 18 - will air on March 25.
What did you think of this filler episode? What are your thoughts on Rossi? Do you agree he's more into BDSM than he let on? Be sure to watch Criminal Minds online and then let us know your thoughts in the comments!
Douglas Wolfe was a staff writer for TV Fanatic. He retired in 2016. Follow him on Twitter
.