If everyone in the world danced and sang while getting out of the shower like Winston, the world would be a better place.
New Girl is finally back after what seemed like a rather long break. Thankfully New Girl Season 4 Episode 19 proved a break is exactly what the show needed. It looks as though New Girl has tweaked a couple of things and fixed some of the problems they have been having this season.
Let's not waste anymore time and discuss tonight's episode.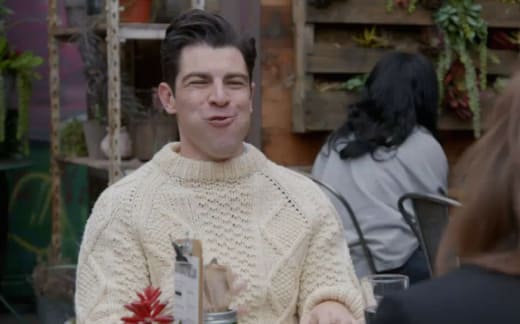 Jess's version of a sext is exactly what I'd expect from her. Jess's personality has been flip-flopping around all season and tonight finally showed a glimpse of the person she used to be. Who else would think a sext message would involved your bra being on the outside of your shirt? It's delightful having the old Jess back.
Of course Jess would be able to guilt not only Cece, but Coach, into going to the funeral to pay their respects to Pete. It was equally awkward and hilarious, especially when everyone was together remembering Pete and talking about their memories.
Thankfully, this is a comedy and it's OK to laugh during these "serious" moments, because I couldn't help cracking up, especially when they started singing a song about hotdogs – which turned out to be a rather catchy tune.
Why did it take so long for Nick and Schmidt to think about investing in the bar? The bar is always busy, plus Nick knows the business. It may not have the best clientele in the world, but at least they know they will make a profit. Speaking of the bar, it's always enjoyable seeing Ben Falcone playing the owner and I find myself looking forward to seeing him and hearing the sarcastic things he has to say.
Schmidt's mom, Louise, is amazing and I want her to stay on the show forever. Kudos to the casting department for getting Nora Dunn to play Louise, because she did a brilliant job as the overbearing mother. Of course Schmidt's mom would refuse to give him his bar mitzvah money until he wrote out his thank you notes; though it's shocking his mother never forced him to sit down after his bar mitzvah given her pushy personality.
Schmidt enlisting Winston and Aly to help him track down the bar mitzvah guests was amusing, especially when they'd find out one of the guest was deceased. Schmidt should have known Louise was going to critique everything he wrote and wouldn't be happy with what he showed her – come on Schmidt, you know your mother and know she wants perfection.
Louise almost gave us the biggest secret of all – Schmidt's real name – and now I find myself wanting to know what his real name is. Damn you, New Girl!
In the end, Louise finally gave Schmidt his money and apparently thinks Cece is a Hispanic woman. Jess made the decision she would get Louise to become her best friend – can you imagine the antics which will transpire? Winston and Aly decided to just be friends instead of getting into a relationship, which is probably a smart idea.
It was a strong episode with a lot of laughs and some character development – the break has done them well and it shows.
Next week on New Girl Season 4 Episode 20, Jess decides to play in a charity golf tournament and Fawn Moscato returns. Meanwhile, Winston meets a woman who he finds attractive, but she is not a fan of police officers and Winston has to make the choice to lie about his job or tell the truth.
We're getting into the home stretch of New Girl Season 4, but you still have time to catch up. Go watch New Girl online now via TV Fanatic.
Samantha McAllister was a staff writer for TV Fanatic. She retired in November 2018.