What can a childhood ring and an old clock possibly have in common?
On Bones Season 10 Episode 14, these two seemingly simple objects actually hold a great deal of significance.
We get the opportunity to see Max again in "The Putter in the Rough," and he is still a character who has secrets he feels he has to keep from Brennan and Booth.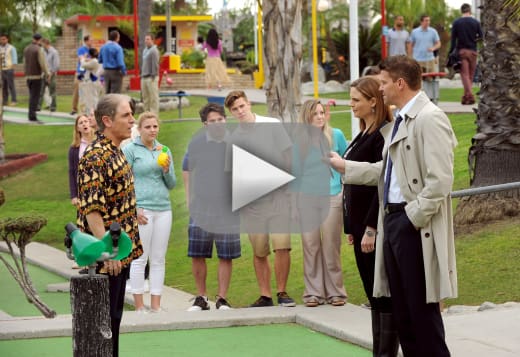 Brennan is maybe a little too quick to jump to negative conclusions. We know Max has done terrible things, but he's also been there for her in some really important ways. She's trusted him before, so for her to suddenly decide he could be too dangerous for Christine to be around is surprising.
What does make sense, is how she feels Max is abandoning Christine when he cancels his plans with her. Regardless of how much their relationship has evolved, Brennan still feels as though she was abandoned as a child.
Booth tracks Max for Brennan, whose suspicions that he's up to something turn out to be correct. Still, I wouldn't have bought it if Max had been doing something wrong that didn't have a useful purpose. Deep down, Max has always been good, and he's always wanted a relationship with his daughter.
Has Max been up to something that could get him in trouble? Yes. Definitely. But, it turns out that he does have the best of intentions, and it actually brings some closure for Brennan. Max brings her a ring she had as a child. The ring symbolizes safety, since Max's recovery of it means a danger to Brennan is no longer alive.
I can't help but sense that there's more to it than this, but for now, it's a nice moment that comes with an explanation of why Brennan's parents abandoned her. The ring also becomes a symbol of family, especially as Brennan passes it down to little Christine.
Meanwhile, Wendell is on a mission to repair his girlfriend's clock. He believes he broke it, and he also believes it to be extremely valuable. He asks for help from Hodgins, which makes for a fun plot line. As the two of them work to solve the case, they also work on the clock together.
The moments between Wendell and Hodgins make for fun comic relief, and also remind us why Jack Hodgins is such a great character. When his abilities to fix clocks fail him (just another random fact about Hodgins), he brings out a plan B. He has managed to get another clock just like it, and it only cost him nine dollars off Craigslist. It turns out, the clock isn't valuable monetarily, but it's still pretty priceless.
That brings to me back to the common thread of this episode, which is symbolism in priceless objects. That ring? It's more than just a childhood possession. And as Wendell's girlfriend explains, that old clock was once a symbol for her grandmother, and it has now become of symbol of their own relationship.
What did you think of "The Putter in the Rough"? Share your thoughts in the comments below!
Need to catch up on past episodes? Remember that you can always watch Bones online right here via TV Fanatic!
Ashley Bissette Sumerel was a staff writer for TV Fanatic. She retired in September 2017. Follow her on Twitter and on Google+.