Person of Interest Season 4 Episode 19 Review: Search and Destroy
Sean McKenna at . Updated at .
A The Daily Show correspondent being targeted by Samaritan?
Clearly, the artificial intelligence doesn't have a humor setting.
OK, so actor and comedian Aasif Mandvi wasn't playing that character on Person of Interest Season 4 Episode 19 but rather Khan (insert Star Trek joke here), a tech tycoon targeted by Samaritan. And that meant a far tougher job for the POI team trying to stay undetected and do their job.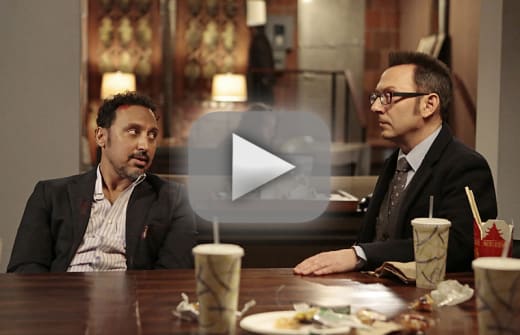 While more recently the Person of Interest Season 4 episodes have felt far more case of the week than big mythology, this particular hour blended those two for an engaging and compelling watch.
There was plenty of intrigue and mystery surrounding the reason for Khan being targeted. And that meant recruiting Zoe Morgan (love her questioning of Reese's relationship with Iris) and even bringing back Root despite Finch's disagreement with her actions in Person of Interest Season 4 Episode 18.
This was an all-hands-on-deck hour, especially because of Khan's persistence to know the truth.
Unfortunately, that ended up with his demise despite being saved by the POI team, but nothing good can come from a face to face meet and greet with Greer and Samaritan.
But it was such a cool reveal that Samaritan was using Khan's anti-virus software and enhancing it to try and track down the Machine. Luckily, the Machine is still just out of reach, but as Person of Interest Season 4 has progressed, it seems that Samaritan keeps getting closer and closer.
That means more battles against Samaritan agents, and it was good to see Root get a chance to take on Martine. I was worried that Root's desire for revenge would wind up getting her killed, but Reese was able to pull her back (even if he later agreed he should have let her kill Martine.)
I did find it a bit surprising how the trio managed to escape what seemed to be rather easily from the onslaught of bad guys. One moment they are converging on the team, the next, the POI team is hanging out back at home base. It did feel a little too quick, even for Reese and company.
I wonder if Reese trying to teach Finch how to shoot or even saving Finch during the battle is foreshadowing something that might happen to Reese in the future? He talked about not being around forever, but it's hard for me to imagine this series without both at least Finch and Reese.
Then again, who knows, as Carter was killed and Shaw was sidelined (eventual fate to be determined).
I am curious as to the Machine and Root's task with that case and the egg. What was that all about?
This was an exciting episode to come back on after the mini hiatus. It really kicked things into gear with an interesting case of the week interwoven with the Samaritan battle. Now I'm just wondering if and when Samaritan is going to target Jon Stewart…
What did you think? Will Samaritan find the Machine? What's with Root's side mission? Sound off below, and if you want to see this action-packed episode again, watch Person of Interest online now!
Sean McKenna was a TV Fanatic Staff Writer. He retired in May of 2017. Follow him on Twitter.