Vikings Season 3 Episode 9 Review: Breaking Point
Henry A. Otero at . Updated at .
This week, in the penultimate episode, the Northmen hit Paris a second time but fared no better.
However, their persistence paid off as the food supply within the city dwindled. Vikings Season 3 Episode 9 set the stage for negotiations with the Franks. The Paris siege is finally coming to an end.
Did the baptism at the end surprise you as much as it did me?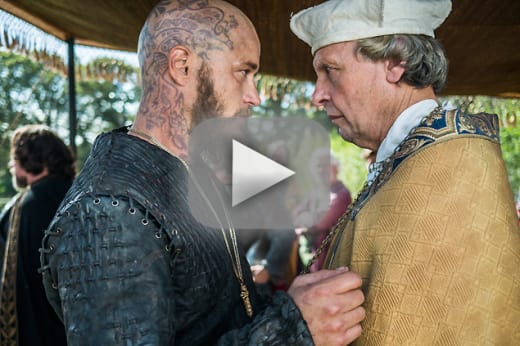 It was wonderful to see Lagertha lead the second attack with her warriors. The women made their way to the main gate like ninjas, skillfully taking out soldier after solider. As the gate burned, I wondered if the Vikings might be successful this time around. While I realize Ragnar's not doing well, he's been very disconnected since Athelstan's death.
That wheel with spikes was a fairly gruesome moment for this series. Seeing the Vikings and severed limbs stuck to the thing was brutal. I've got to say, HISTORY upped the violence factor this season. That's not a complaint, merely an observation.
Again, Rollo stepped up and even the Franks were impressed. Is it me, or is Rollo being allowed to shine more due to Ragnar's eventual fate?
Count Odo: There was someone else, a great warrior. He spiked that machine and he did it alone. I have never seen a man of such strength and such violence. Who is he?
Cindrich: His name is Rollo. He is the brother of King Ragnar, the leader of the Northmen. He is a famous warrior. He fights like a crazy bear.
Count Odo: Your highness, this man Cindrich, will be of use to us.
Princess Gisla: And this Earl?
Count Odo: Perhaps he could be bartered? Fetch us a good price.
Princess Gisla: If you care for me at all Count Odo, you will bring me his head.
Ragnar's vision of both Odin and Athelstan was a sign he's as conflicted now as the former monk. Of course, wanting to be reunited with his dear friend in the afterlife drove his decision to be baptized.
King Ecbert has become a total creep, seducing and taking his son's wife as a mistress. Judith simply wants her children to be safe, so she went along with it. How will Prince Aethelwulf react if/when he finds out. Aslaug was equally creepy this week, torturing and then killing the young Christian. She's power hungry, and doesn't deserve to rule over Kattegat.
Earl Siegfried's execution scene did not play out the way the Franks expected. I wasn't sure what he was playing at asking for his hair to be pulled out of the way. Of course, once the guard lost his hands to the executioner's blade it all made sense. This reminded me of Jaime Lannister losing his sword hand on Game of Thrones. It was actually more graphic, as Jaime's scene took place at night and this was during the day.
As the city folk grew sicker and the food rations disappeared, the Emperor had a tough choice to make.
Count Odo: Your highness, in the last few days over two hundred of our citizens have succumbed to this unknown sickness and died. God knows how many more will likewise die. What's more, we're running out of fresh vegetables, fresh food and the city is beginning to starve.
Emperor Charles: And yet, we won a great victory.
Count Odo: We may have repelled the pagans and stopped them from entering the city, but that is not exactly a victory. Who knows, the next time they may well succeed. Your highness we have lost too many good men.
Emperor Charles: What is your advice?
Count Odo: I believe we must attempt to come to terms with them.
Back at the Viking camp, the Frank soldiers appeared with Cindrich. During the negotiations, I got the sense there were too many chefs in the kitchen. Apparently Ragnar thought so too, because he lost his cool for the first time in a while.
Lagertha, Rollo, Bjorn, Kalf and even Erlendur were all throwing their opinions around. It's a good thing Floki's withdrawn a bit, otherwise I'm sure he would have contributed his two cents as well.
Have I mentioned lately how outstanding Travis Fimmel is as Ragnar?
Ragnar: I have something to say. I did not become Earl because I aspired to be one. It came about because of other people's actions. And I did not become king out of ambition, but once again I had no choice as a result of other people's actions. But nonetheless, I am king. King Ragnar, that is my name. What does a king do Bjorn?
Bjorn: He rules.
Ragnar: Yes, good... he rules. And as a ruler, I have the last say. Me! Not you, not you and not you.
Considering how detached Ragnar has been in these last few episodes, I'm sure none of the others expected his outburst. The king is back and went to the negotiations all by himself. Though historically the Northmen left with a ransom of 7,000 French livres, the baptism was more precious to TV Ragnar.
I admit I didn't see that request coming, but once Ragnar explained he wanted to be reunited with Athelstan in Heaven, it made sense. Having already watched Rollo being baptized in Northumbria, Ragnar knew how it worked.
Lagertha, Floki and Rollo arrived as the ceremony was completed. There's going to be plenty of tension in the season finale. With the ransom paid, and Ragnar baptized, what else can we expect in the final episode of the season?
What did you think of "Breaking Point"? Did you expect a truce this week? Did Ragnar's baptism shock you? Your turn guys, hit the comments below and share your thoughts on tonight's Vikings.
As always, you can watch Vikings online via TV Fanatic at any time. Make sure you're all caught up before the season finale!
NOTE: Vikings Season 3 Episode 10 is titled "The Dead" and airs on Thursday, April 23.