The Good Wife Season 6 Episode 21 Review: Don't Fail
Christine Orlando at . Updated at .
Once upon a time, Alicia Florrick loved the law, but at the start of The Good Wife Season 6 Episode 21, she no longer feels that way. Now the law isn't necessarily good, simply neutral.
Alicia seemed to be having a crisis of identity as much as confidence. This episode reminded us how many metamorphoses she's been through over the last six seasons.
At the start of the series, Alicia Florrick was the dutiful wife who stood by her husband, the newly hired attorney starting over, Cary's competitor and Kalinda's friend.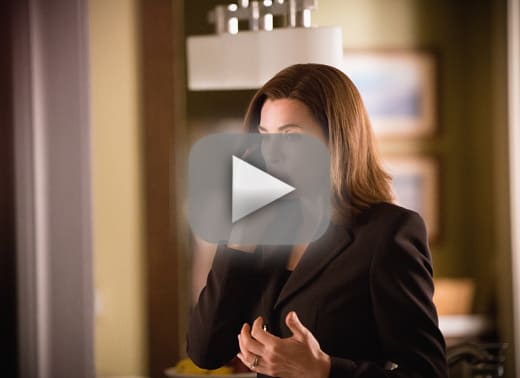 In some ways, Alicia is back to where she started. She's still weathering a scandal, although this one is her own yet not of her own making. Peter was guilty of wrongdoing.
Alicia is not which makes this all the more painful. She's out of work and struggling to figure out what to do next, as she explained to Finn in this The Good Wife quote...
I'm having a crisis of confidence and it's taking up all my time.

Alicia
Finn's advice was perfect. It was time for Alicia to get out of her own head and help someone else.
Alicia defending Brett Tatro was not only a revelation for Alicia but for viewers. I can't remember the last time we saw Alicia in a court room fighting for a person in need of her help...not a corporation in need of a loophole or a serial killer looking to escape justice.
The case brought back not only a lot of great memories from her original case but also highlighted how her feelings about being a lawyer have changed. Can she find a way to merge her old belief that the law is generally good with the hard earned experience that has had her swimming in the murky waters of the moral grey area?
It was great to look back and see who Alicia and Cary were back then and who they've become but where some comparisons were happy, others were not. I love how Cary and Alicia went from rivals to colleagues and eventually friends. The two always made a solid team.
On the flip side, we were reminded that there was a time when not only were Alicia and Kalinda friends, but Kalinda was her biggest cheerleader. It's sad to realize that by the time Kalinda left town, these two were barely able to hold a phone conversation.
I also have two small complaints. First off, will we ever get to read what Kalinda wrote Alicia in that note? I was hoping she'd share it with Cary but that never occurred.
Secondly, has Alicia really not spoken with her son since this newest scandal broke? Doesn't that seem odd? Not to mention that I'd expect Zack, a freshman in college, to come home when classes finish in May. Does Alicia plan to ship him off to Peter's since she's commandeered his bedroom as office space?
Last week I said I had no idea where Alicia Florrick was headed, but if it's opening her own small practice and partnering with Finn to take on cases they actually believe in, then despite the long and rocky road, I'm all for it.
Check back in next Sunday for our review of The Good Wife Season 6 Episode 22, the season finale and if you can't wait that long for more, you can always watch The Good Wife online here at TV Fanatic.
C. Orlando is a TV Fanatic Staff Writer. Follow her on Twitter.