Beauty and the Beast Season 3 Episode 1 Review: The Beast of Wall Street
Samantha McAllister at . Updated at .
Did you really think it would be smooth sailing for Vincent and Catherine?
On Beauty and the Beast Season 3 Episode 1, we started out with the very popular time jump. Every show is doing it, but at least it was only two months into the future and our favorite couples are still happily together.
Even though they're dealing with the possibility of people being experimented on and turning into hybrid beasts, the episode focused on our couples being honest with each other and having a more open dialog, intermingled with a few moments of said hybrid beast.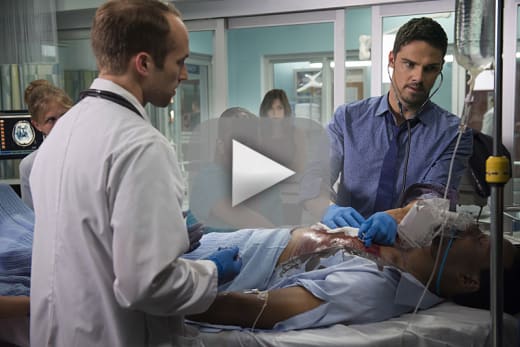 It was totally understandable why Cat would be nervous about how wonderful, and beast-free, her life has been for the past two months. The last two seasons have shown us, and Cat, you need to wait for the other shoe to drop because things aren't always going to be sunshine and roses.
One of my favorite moments was between Cat and Vincent when they were having a normal morning routine as a couple. It was such a sweet moment between these two people who have been fighting to be together.
They've finally gotten a chance to be a somewhat normal couple. Hopefully, even with danger looming, they'll be able to throw in more of these types of moments because Cat and Vincent deserve to be happy every once in a while.
Who else enjoyed kick-ass Cat when she went to talk to the agents? This is why I've always been a fan of Cat's – she doesn't want to dive into something without having definitive proof, and she's not going to let agents bully her into getting what they want; though I do think the agents provided her with a plethora of evidence.
OK, I get Vincent hasn't been a doctor in a while, but did he seriously ask if shifts ended on time? It's no wonder the nurse didn't laugh in his face and walk away. FYI: ER doctors are usually at the hospital for over 12 hours and you'd think Vincent would have remembered some of this information.
Another favorite was Tess telling JT that he needed to accept the fact he was given a second chance at life and enjoy it. I hate seeing JT question why he lived, but Tess told him exactly what he needed to hear.
Nina Lisandrello did an awesome job of conveying a woman who loves her boyfriend, but wants him to embrace the life he has been given – Tess can't hold JT's hand forever and she isn't going to stay with someone who is always going to mope around and be a buzzkill.
Cat's plan to keep Vincent in the dark, of course, did not go as she expected. Did she really think Vincent was going to be OK with not knowing what she was doing behind his back? Cat was getting herself involved in something she knows nothing about, and in a relationship, there has to be honesty and trust – no wonder Vincent walked away from her angry.
Thank you Heather and JT for providing our resident lovebirds with words of wisdom. While I understand where both Vincent and Cat are coming from, they both needed to get their heads out of their asses and just finish their fight.
Vincent wasn't able to stay away from the game for long, but Cat was able to talk him down from killing Zane before he could lose his humanity. Thankfully, Cat was able to get Vincent on board and convince him they need to stop these experiments which have gone wrong – she did offer up a pretty convincing argument for why they need to stick together to bring these people down, and in the end, they will save more lives.
Of course the most heart-warming moment came when Vincent proposed to Cat. Maybe it's because I'm just an emotional wreck this week, but I was moved to tears. Even through all the downs they've had, they have fought to be together and, going forward, they've hopefully be more honest with each other.
Vincent: Look, Catherine, you're right. As much as I want a normal life, I can't have it. I'm not normal and, like it or not, for the record I don't like it, I don't really have a choice.
Cat: We don't have a choice. Vincent, you've been given a gift. It might not have started out that way, but it has become that and, if you think about it, it's really not much different from why you wanted to join the army or why you wanted to become a doctor.
Vincent: Or why you wanted to become a cop.
Cat: I keep saying, I really believe that were in this together for a reason. Not just for love.
Vincent: Except, without that, I'd be lost.
Cat: [Vincent helping her down] What are you doing?
Vincent: [smiling nervously] I'm making sure you don't fall. [getting down on his knee] Will you marry me?
Cat: [smiling] Yes.
My only complaint is there wasn't enough information on these new experiments which are taking place in New York. You'd think they would have thrown us a few clues about what's going on – a scene in a lab where experiments are taking place or something. There was all this build up about these new beast hybrids and it just fell flat tonight.
What did you think of, "The Beast of Wall Street?" Do you feel we should have learned more about the experiments?
Don't feel bad if you missed tonight's episode. You can watch Beauty and the Beast online anytime via TV Fanatic and make sure you come back to let us know what you think.
Samantha McAllister was a staff writer for TV Fanatic. She retired in November 2018.