Major Crimes Season 4 Episode 9 Review: Wish You Were Here
Jack Ori at . Updated at .
Love is almost always intertwined with pain. And, sometimes, that leads to murder.
Major Crimes Season 4 Episode 9 gave us a husband-wife murder team gone wrong and an obsessive need for love that led to tragedy after tragedy. But all hope was not lost. There was also Gustav, the young man Rusty found who loved his sisters so much that he insisted on one's funeral and on finding the other.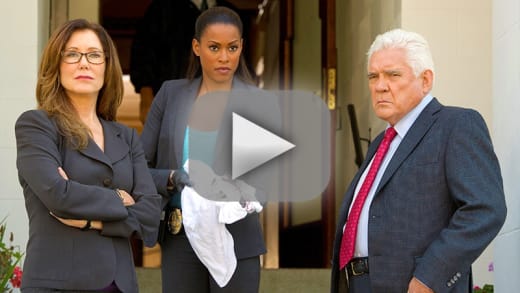 Despite the dark subject matter, "Wish You Were Here" was highly entertaining. Provenza's inability to understand technology is always good for a laugh.
He still hasn't given up his habit of putting "the" before the name of whatever social media site he is using and he will never quite get how they work.
Provenza: The Youtube. It's amazing how fast the world changes.
Buzz: Youtube's been around for about a decade.
Underneath Provenza's amusing disdain for technology, though, is perhaps a more important point: he feels the world is passing him by. Provenza grew up in the days of press conferences and the ability to control the flow of information.
He will probably never get used to the way the world works today, and he shouldn't have to.
.
I guess social media is running us now the way the press used to.

Provenza
In any event, what Provenza saw on "the YouTube" led the MCU to one of the more bizarre cases they've dealt with recently.
It was weird enough that their victim appeared to have committed suicide – except for the location of the "bullet" wound (which later turned out not to be a bullet wound at all).
Underwear screams suicide, but shooting yourself in the back of the head...what an awkward way to go!

Flynn
But then the investigation led them to two angry wives, and either one could have committed the crime! I knew there was something off about Mrs. Riley from the second she was interviewed by Sanchez and Tao, so I wasn't too surprised that she took off as soon as she thought she wasn't being watched.
I was less sure about Ms. Tucker, who just seemed weird.
Gretchen Tucker's response to being told that her husband's last words were "I love my wife" should have tipped me off that something was going on that shouldn't be. I was wondering what was up with her, but I never guessed that her secret was that she was killing men who refused to love her after having extramarital sex with her. Did you?
In some ways, Gretchen was a tragic figure...well, at least until she claimed she killed all those men in self-defense. She seemed infatuated, in a way, with her late ex-husband, yet hated him for who he turned out to be.
I liked how they made it look like maybe all those men were secretly having affairs with each other. After all, they were all killed in seedy motels and were all married at the time of death. There were so many possibilities for what went on. Maybe that's why I didn't figure out the real story.
I thought the Rusty/Gustav story this week provided a nice counterpoint to the twisted mystery. Rusty is genuinely struggling with the outcome of his investigation.
I think he's maturing and realizing that the truth isn't always pretty and doesn't always help as much as you think. I was really proud of the way he comforted Gustav and then put Flynn on notice that he'd better keep his promise.
Gus, look. I found you unofficially, man, and I didn't even know what I was doing.

Rusty
I also felt really, really sorry for Gustav. He must have felt the system was screwing him and his sisters over bigtime. He couldn't even get Alice/Mariana buried, never mind get help finding his other sister.
The hurt on Rusty's face when he heard that Paloma might end up in foster care solidified his kinship with Gus. He will undoubtedly do everything he can to try to reunite this family.
Flynn might have been sincere in his promise to Gus, but will Hobbs? She seemed more on edge than usual this whole hour, and I found it hard to tell what she was thinking.
One thing at a time. First, you cooperate. Then we'll see about Mariana.

Hobbs
Do you think Hobbs will do anything to help Gus with Mariana's burial? Did Gretchen's cold-bloodedness creep you out, or do you think there's any chance she was actually raped?
Discuss all this and more below! And if you missed "Wish You Were Here," don't panic. Watch Major Crimes online so you can join the conversation!
Jack Ori is a senior staff writer for TV Fanatic. His debut young adult novel, Reinventing Hannah, is available on Amazon. Follow him on Twitter.