Masters of Sex Season 3 Episode 4 Review: Undue Influence
Amanda Steinmetz at . Updated at .
Bill Masters attempted to relate to other people, and it was a strange sight to see.
On Masters of Sex Season 3 Episode 4, Bill turned to a self-help book, but he didn't always get the responses he was hoping to get. Meanwhile, Virginia once again had her hands full, but found a new confidante in Daniel.
There's also the little matter of Margaret's new relationship situation. Let's discuss!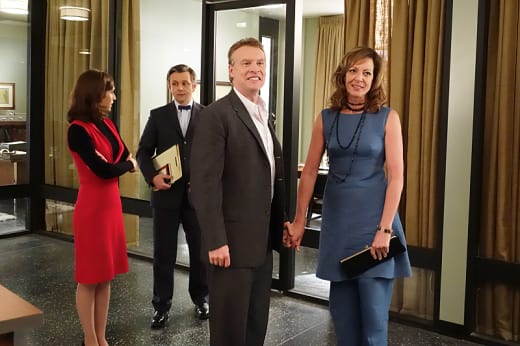 Did anyone else see Margaret's polyamorous relationship coming because I certainly didn't?! This is not the woman we met back in Masters of Sex Season 1 who broke our hearts when she revealed she'd never had an orgasm before.
She seems happy enough with Graham (played by Tate Donovan), but it makes one wonder whether he's having the same sexual problems with the other women in his life. Is it just with Margaret he's having those problems?
Her reunion with Barton went as well as can be expected. I think she should be able to tell Graham the real reason why her marriage failed with Barton. Yes, it's Barton's secret to keep, but she was robbed of passion and sexual intimacy for years. I think she's earned the right.
It haunts me, carrying around a secret that doesn't belong to me and isn't mine to tell.

Margaret
Besides, Barton is in no hurry to open up to anyone about his homosexuality. He doesn't appear to have any guilt stringing along another woman.
No matter what happens with Margaret, I'm just thrilled to have Allison Janney back on the show!
Elsewhere in the episode, Bill's advice book did very little to help him connect to others. I appreciated his desire to try, but I couldn't help but feel like this was another selfishly motivated act to get Virginia to rededicate her time to him.
The scene where he gave Virginia the coat was so uncomfortably awkward. His sentiment was nice, but his delivery could have been smoother. At least he threw out the book and lent Virginia a sympathetic ear. She needs more understanding, not more pressure.
If only Bill could try as hard with Libby as he does with Virginia. The man couldn't even remember that he gave a similar fur coat to his wife early on in their relationship.
It's no wonder Libby got so riled up at the neighbors' house. Libby may have thought she was standing up for Joy, but she was also standing up for herself.
Joy is the woman that you married all these years ago, and you have to remember and honor who she is still, and treat her with the same dignity and respect that you always did.

Libby
Obviously brain damage is not the same as her situation, but she also saw how quickly Paul had given up on his life with Joy. Libby feels like Bill abandoned her a long time ago. They may still be married, but he doesn't treat her with the dignity she should be given.
However, it's impossible not to feel bad for Paul. What is he supposed to do? His wife can't move or speak. It's very possible she may hear everything that's going on, but his marriage is essentially over.
There were many heartfelt encounters throughout the episode, but none intrigued me as much as the ones between Virginia and Daniel. I couldn't tell at first if he was just working her fears about Henry to his advantage. I believe he was sincere, but he could just be a very good liar.
There's a palpable tension between Virginia and Daniel. Whether or not that tension turns into something more remains to be seen. As much as I find Virginia's relationship with Bill compelling, it would be nice to see her genuinely happy, which she never seems to be with him unless it's about their work.
Other Thoughts
Tessa is spiraling, and Virginia doesn't seem to realize just how much. I can't stand that she went back to that boy from school. I'm not going to even bother remembering his name because why should I? He's terrible!
I demand more Betty! Her commentary is always spot on and hilarious.
The book continues to be a success, but what's next for Masters and Johnson?
So over to you guys! What did you think of "Undue Influence"? Should Virginia and Daniel hook up? What did you make of Margaret's new lover? What are your predictions for Masters of Sex Season 3 Episode 5?
Sound off below, and don't forget you can catch up on missed episodes when you watch Masters of Sex online via TV Fanatic!
Amanda Steinmetz was a staff writer for TV Fanatic. She went into retirement in June of 2027. Follow her on Twitter.