Family Guy Season 14 Episode 7 Review: Hot Pocket Dial
Lisa Babick at . Updated at .
Ever butt dialed anyone?
Most times it's pretty harmless, but on Family Guy Season 14 Episode 7, Quagmire's accidental butt dial to Peter almost destroys their friendship.
After all, it's one thing to lust after your best friend's wife, but to claim you actually "love" her? Well, that just crosses the line.
Sort of what a good chunk of the cutaways did this episode. But, we'll get to those later.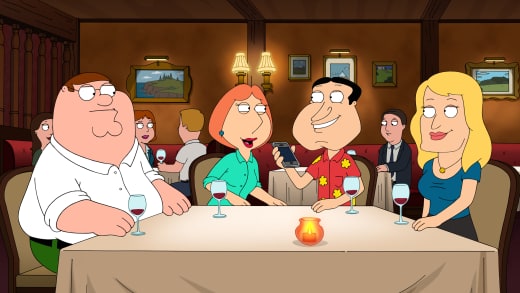 Sometimes watching Peter makes me wish I was a cartoon character just so I could hang around him and be stupid all day. How does someone not know how to use a toothpick? It was hilarious watching Peter put it in his mouth slow motion.
Once Lois snaps him out of his stupidity, and he finally figures it out, Peter takes toothpick picking to a level only Peter can...by becoming toothpick guy. We have all met one of them, haven't we? Annoying.
But, then, he accidentally swallows his beloved toothpick, so he and Lois go back to the restaurant to get another one.
Luckily for us, his newfound fascination ends rather quickly after he sees an old lady using one. What's worse? Seeing an old lady use a toothpick or seeing a gnarly piece of food in an old lady's mouth? You decide.
Then things get serious as the Quagmire butt dialing story takes hold. It was nice to see Glenn pretending to have a good time with his dad/mom, Ida. Nothing like Lois doing a little Caitlyn slam without doing a Caitlyn slam. Lois is such a bitch, isn't she?
But Lois is also the center of attention as Quagmire admits to Ida his "love" for his best friend's wife. Unbeknownst to him, he butt dials Peter while making this confession. When Peter listens to his messages later and hears Quagmire's words, he is not happy. Like any guy, he wants to confront Quagmire and protect his woman, but Brian convinces him not to, or at least tries to convince him.
And I'm sure the fact that Brian has a thing for Lois isn't influencing this thinking at all, right? How would Peter react to that revelation?
It's an interesting thought when Brian said Peter was eavesdropping on a private conversation. Could something like that be violating the caller's privacy? It certainly wasn't something that Quagmire intended for Peter to hear, and I was actually surprised that he admitted it to Ida. Maybe he had too much wine.
Either way, the revelation causes problems between the two friends. Lois is flattered. Peter is jealous and afraid. Quagmire is humiliated. Peter and Quagmire have a fist fight. Quagmire moves out of Spooner Street.
Peter is so immature when he flips off Quagmire, but I had to laugh. "Hey, Quagmire, you forgot something."
The guys realize that life is boring without Quagmire, and Joe actually thinks he can take over saying "giggity." Yeah, right. Now that's funny!
Eventually, Lois, being the levelheaded person she is, gets everyone to make up, and all is good once again in Quahog. Even if we are "all terrible people on the inside," like Lois said.
I really enjoyed hearing everyone sharing the things they think about but don't act on. I can see Lois pushing people off of train platforms, can't you?
While the whole butt dialing plot line was incredibly entertaining, it was the cutaways that really made the episode this time around.
Standouts were the Disney slams. I counted two: Don't get on the train and the carnivorous Little Mermaid. Think about it! It's true!!
Stewie's arm pants adventure in Tampa Bay was hilarious. Peter's pheasant fetish was disgusting, but funny. And how does Family Guy keep getting away with the Cleveland jokes?
But, my absolute favorite was the musical. I had to watch that one a couple of times to catch them all. Continuous, anyone?
"Hot Pocket Dial" was one of the more entertaining episodes of the season. Yes, it made me realize that, I, too, am a terrible person for laughing at things I shouldn't be laughing at. But, hey, this is a cartoon. It's not real, right?
What did you think of "Hot Pocket Dial"? Share your thoughts below!
Missed this episode? Remember, you can watch Family Guy online anytime, right here on TV Fanatic!