Shades of Blue Season 1 Episode 3 Review: False Face, False Heart
Christine Orlando at . Updated at .
Everyone in Shades of Blue Season 1 Episode 3 is desperate, and it's riveting to watch.
Let's start with Agent Baker who seems torn between respecting Harlee, "You were good police once," and arresting her just to make this case go away. Was she worried about Harlee ending up dead?
Then maybe you shouldn't have sent agents to Harlee's home to pick her up. Was she actively trying to blow her cover?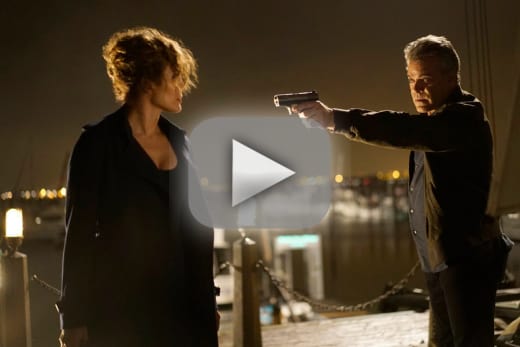 Agent Stahl is walking the razor's edge between doing his job and falling down the rabbit hole. When he threatened Harlee in the restroom, he sounded more like her pimp than her FBI handler.
Baker made it sound as though Stahl had recently lost a partner in the line of duty. Did it have something to do with this corruption case? Is that why he's so hell bent on finding something to use against Woz?
Stahl also has a child and what appears to be a messy custody case. Any chance that kid will end up being used against him by the time Shades of Blue Season 1 comes to a close? I'm guessing everyone and everything will be fair game before all is done.
Detective Loman was so consumed by guilt over the shooting that he not only went to a fundraiser for his victim but asked the man's cousin out. What happens when these poor people find out he's the cop who shot and killed someone they loved? Loman may be looking to punish himself, but he'll probably end up hurting this family even more.
Tess proved herself to be a wild card once again by moving a dead body off her property. Who knew that open houses could be that much pressure?
I love Drea de Matteo as Tess. She somehow manages to make this train wreck of a character come off as likable, even vulnerable.
I also have great respect for the loyalty of this team. They don't hesitate to help one another, even when it involves moving dead bodies and covering up wrongful shootings. They always have each other's backs. How many of us have friends like that? Unfortunately, it's also the quality that will take them all down.
Because as loyal as Harlee is to her team, there's one person who ranks above all of them…Cristina. Cristina's the reason she sent Zepeda away for murder. She's also the reason she'd turn on the people she cares about the most. She will do anything to save her daughter, even if it means eventually selling out her crew.
On some level Woz must know that. As was pointed out to Woz in this Shades of Blue quote…
Stuart: Six years as a Marine. Twenty-five years on the force. Your gut is the reason you're still alive. What does it say?
Woz: That you can't take back a bullet.
This is killing Woz. He loves Harlee as a friend, almost like a daughter. Could he forgive her if he found out the truth? Could they figure a way out of this mess together? I don't know, but the further Harlee sinks into this mess, the less likely that possibility seems to be.
And she's definitely in deep. Stripping down to embarrass Woz into believing he's being paranoid, all the while hiding the wire strapped to her back was brilliant.
Sleeping with the ADA while Stahl was listening in was…I'm not even sure what to call it. Will that move keep Zepeda in prison? Will it help Harlee to have an ADA in her bed? Can she use this to her advantage moving forward? If nothing else, hopefully the sex was good because the girl definitely needs the stress relief.
As for Woz and Donnie's kiss… Mind. Blown. I have no words because I was completely blindsided. That one is going to take time to process.
Check back next week for our review of Shades of Blue Season 1 Episode 4, and if the suspense is too much to wait until then…you can watch Shades of Blue online here at TV Fanatic.
C. Orlando is a TV Fanatic Staff Writer. Follow her on Twitter.