Bitten Season 3 Episode 3 Review: Right Behind You
Carissa Pavlica at . Updated at .
Who knew Elena getting a blood family would be so interesting?!
Answers are still lingering after Bitten Season 3 Episode 3, but the Antonovs are safe. For the moment, anyway. The Antonovs may have to swear allegiance to the Pack to get any further protection from Jeremy and even that wouldn't necessarily protect Katia.
Even Clay seems a little bit unsure how to position himself with all that is going on. But he appears to be leaning in the direction that family is family, whether by blood or though the Pack. And that means safety and protection.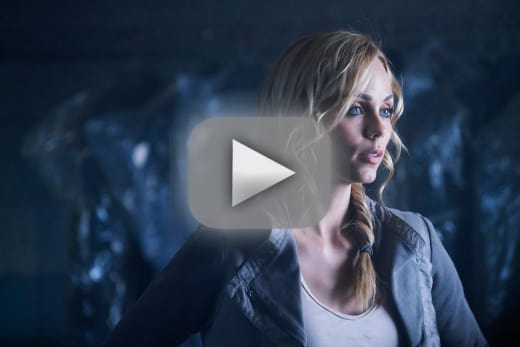 I don't know about you, but I've fallen for the Atonovs. If something would happen declaring them not to be Elena's family at this point, I'd be disappointed.
Sasha seems like a good father, and Alexei and Katia are sweet. While it would have been much nicer if Jeremy had embraced the entire lot with open arms, we all knew that wasn't going to happen, right?
Even during Bitten Season 2, when Jeremy was more in the embracing mood, he was probably unlikely to do it, but this season? The way Jeremy finagled the discussion he had with Sasha as to ensure his meaning was clear – that he wouldn't be unduly upset of Roman had a tragic accident while in his territory – was a win.
Elena was all set to move forward with her plans to get them out of there and away with new identities. In the heat of the moment, she had forgotten the very thing she wasn't pleased about lately with Jeremy.
And that discussion was surprising in itself. It felt like the old Jeremy was back, even if just for a bit. He wanted Elena's opinion on how he was running things and said he valued it. Until she put in her two cents regarding how to handle things with her family. Then it wasn't her place.
I do not have a pack mentality. It would be so hard to modify all behavior to what's best for the Pack, wouldn't it? When you deeply believed there might be another way?
Because Alexei and Katia showed up. Alexei is kind of in awe of his older sister, and it's adorable. The way he inaudibly challenged Clay after a day boasting how exciting it was going to be to turn for the first time and got his little butt handed to him at the kitchen table proved he needed to be around other Wolves.
You could feel that Clay was drawn to her family as he was once drawn to her, but for different reasons. They're her blood, and his urges to protect her go deeper than her own skin and bone, through to her flesh and blood relatives.
Sasha swears the argument between him and Roman is personal. Could Roman have loved Elena's mother? What else could it be that he would also want to kill her children before he stopped? After all, Sasha also said he would stop at killing Alexei and Katia, so the feud has nothing to do with them.
Something tells me that if Roman finds out Elena is her mother's daughter, the fight will greatly intensify, and only then will it become as personal for Jeremy as it is for Elena and Clay.
Jeremy was finally willing to play ball when Constantine dared threaten Elena. If it becomes an ongoing threat, all bets will be off whether Sasha started the feud or not.
But what are they going to do with Constantine now? And will it possibly anger Roman even more? I hate to say it, but I wasn't sure Jeremy was on Elena's side until he said it out loud. When Clay got out of his truck, even his actions seemed questionable.
These are dark waters the Pack are jumping into and for people only bound by blood. If Jeremy just spends a little time with them, I'm pretty sure he'll fall in love with them, too. Getting them to stick around to swear allegiance, though, would be the easiest and safest way to accomplish all things. Make them official family!
But that still leaves out Katia. She'll still be a girl, and not a Wolf. Will she be sent to live with Rachel? Will she be given a pass because she shares blood with Elena? Interestingly, I haven't bonded with her as I have with Alexei, but then I feel like that's on purpose. I think like a Wolf!
Other bites:
Something is coming up with the non-sheriff, right? She saw all of the materials in Jeremy's truck (he was trying to keep a low profile, no less) and then met a stray Russian in the parking lot? Something's coming there.
Thank you, powers that be, for giving us Nick's ass. Thank you, Steve Lund, for showing it. If it was a stunt ass? Good look alike! Viewer approved all around.
The house Clay is buying for him and Elena is perfect. It looks like it should be on the cover of a novel AND it's surrounded by pristine forest. How thoughtful!
Chopping up bodies with tree trimmers and putting the pieces into hand made rocks for the bottom of a creek makes me never want to dip my toes into fresh water again.
The way Sasha described changing into a Wolf the first time certainly made THAT sound appealing, though.
OK guys, you're up! Are you digging this season as much as I am? Hit the comments and share your thoughts!
Don't forget, you can watch watch Bitten online right here via TV Fanatic any time.
Carissa Pavlica is the managing editor and a staff writer and critic for TV Fanatic. She's a member of the Critic's Choice Association, enjoys mentoring writers, conversing with cats, and passionately discussing the nuances of television and film with anyone who will listen. Follow her on Twitter and email her here at TV Fanatic.