Suits Season 5 Episode 13 Review: God's Green Earth
Paul Dailly at . Updated at .
If there's one thing we should know by now, it's that not everyone is going to make it out of this lie unscathed.
On Suits Season 5 Episode 13, tensions remained very high as Gibbs turned up the heat on Rachel in order to scare her into turning against Harvey.
It was obvious that this would happen at some point, but it was stupid of Rachel to take the bait and go on a coffee date with the woman who is making her life hell.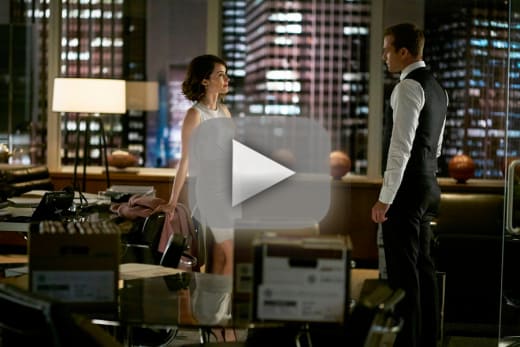 Nothing good would ever come from that and I would hope that now that Rachel's grades were called into question, she would realize just how evil Gibbs really is.
Sure Gibbs wants to be known as the one to take down a high class lawyer, but if she gets the opportunity to take down more than one person, she's going to take it. Just look at the article she turned in.
Pearson Specter Litt is on shaky ground as it is and that could have been the final nail in the coffin for them. There are going to be a lot of changes in the hierarchy at the firm before Suits Season 5 closes.
There's no denying that Leslie Hope is turning in the performance of her career. She's done an amazing job as Anita Gibbs, and it should be interesting to see which path of destruction for our favorite characters she will take next.
Elsewhere, Jack continued to try worm his way up the totem pole, and I'm team Louis on this one. Jessica is being a little too trusting with him considering what he has done in the past. Yes, he gave her that document, but I'm not buying that he's put the full story in it.
He's nothing but an opportunist, and as much as he wants us to believe that he's turned over a new leaf, he just can't be trusted. Normally I get up in arms about Louis and his complaints, but this is a very rare occasion that I agree with him.
As a character, Louis has improved the most from the beginning of the show. There's obviously lingering feelings between himself and Sheila, but that didn't stop him from sending her on her sweet merry way. He wanted her to believe that he was doing it for her own good.
I'd like to think based on his tears that he was doing it for both of them. Sheila was wise to go because there's no way she'd have been able to keep it together at trial. She clearly didn't understand the mess she was in.
When this is all said and done, I'm thinking Louis is going to be chanting about how right he is and that people should take an interest in his opinion more often.
"God's Green Earth" was another solid installment of this USA drama. It slowed down a bit from the opening episodes, but there is still enough going on to keep the intrigue very much present.
Other tidbits from the episode:
It was such a shock when it was revealed that Mike took that dude's test. Gibbs obviously didn't bank on that happening, but Mike was wise to blackmail him.
Scottie being brought into the fold by Mike was a great twist and all, but did anyone think she was going to ditch going to see Harvey? That whole scene with her speaking to Rachel was exactly what I was thinking and hopefully Rachel realizes it before they get married. It wouldn't be a mistake for them to marry, but she needs to know what she's getting herself in for.
Did anyone else do a happy dance when Donna and Rachel made up? These two should not be fighting. They're friendship is one of the highlights of the entire series.
What did you think of the episode? What is Gibbs' next move? Hit the comments below!
Remember you can watch Suits online, right here on TV Fanatic. Get caught up on all the drama now!
Note: Suits Season 5 Episode 14 airs Wednesday February 17 at 10/9c on USA network.
Here's your first look at the next episode: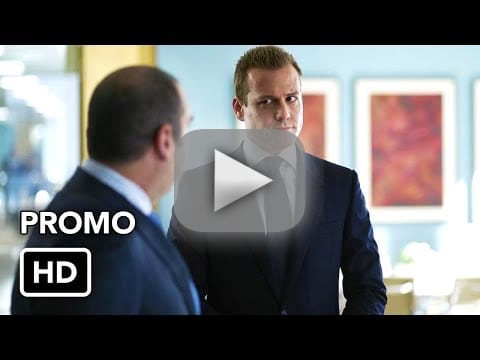 Paul Dailly is the Associate Editor for TV Fanatic. Follow him on Twitter.