I really do enjoy when Elizabeth gets to be a badass.
On Madam Secretary Season 2 Episode 16, Elizabeth got information about the possible whereabouts of Jibral Disah. We also finally got to see Henry in action which was a pleasant change of pace. I'm really enjoying how they are integrating Henry into Elizabeth's life at work.
Let's not waste anymore time and discuss, "Hijriyyah."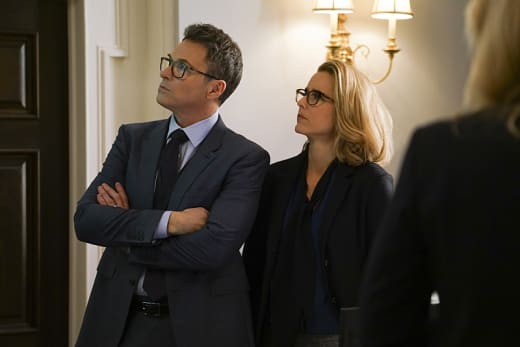 It was really nice seeing Henry, Elizabeth and the kids having family time. As much as I enjoy all the political storylines, I always find myself loving the family aspect of the show. After everything they've been through, it is great seeing them joking around with each other and giving Stevie a hard time.
I can't say I was shocked to learn Stevie still hadn't introduced her boyfriend to her parents, but at least Henry was able to get a good laugh out of his name. With a name like Jareth the poor guy will always be referred to as the goblin king.
Thankfully Jareth seemed like a fantastic match for Stevie. Stevie needs someone who will be there for her, but also get her to open up about her feelings. It also doesn't hurt having a guy around who can make you laugh. I'm really hoping this guy sticks around for a while since the family seems to like, and approve, of him.
The family time quickly took a backseat when the White House got information about a man who could possibly help out with the location of Jibral. I found myself actually agreeing with Russell when it came to getting information from the mechanic. Why wouldn't they want to jump at the chance to possibly get more information?
Even if this mechanic is a straw I suggest we grasp it with both damn hands before a bomb goes off in Times Square.

Russell
I kind of figured, after the mechanics questioning, something terrible was going to happen. Was anyone else a little disappointed Jose was kind of right? The moment Henry walked in the door Jose put a target on his back which made absolutely no sense. I understood Jose wanted to be stern, but I definitely see him and Henry clashing more in the future.
I am still incredibly suspicious about someone on the inside giving information to Jibral and his organization. It just seems odd the way he's one step ahead of them. It was also a little strange how Jibral knew someone was being questioned about his location.
I could just be full of conspiracy theories, but I really could see the show heading in the direction of a mole being in the White House. It certainly would be an interesting storyline; though I am probably reading way too much into this.
Now it's your turn! Do you think there is a mole in the White House? Are you ready for them to finally take down Jibral? Do you think Jareth is a good match for Stevie?
Don't feel bad if you missed out! You can watch Madam Secretary online now via TV Fanatic anytime. Just make sure to come back to let us know what you think.
Samantha McAllister was a staff writer for TV Fanatic. She retired in November 2018.