Madam Secretary Season 2 Episode 17 Review: Higher Learning
Samantha McAllister at . Updated at .
Never mess with Elizabeth or she'll call on your parents for backup.
While Madam Secretary Season 2 Episode 17 can easily be called a filler episode, it was still a fun hour.
I admit I'm still a little confused why Elizabeth thought she'd be able to get away with some anonymity, but at least we got some pretty hilarious moments.
Let's not waste anymore time and discuss, " Higher Learning."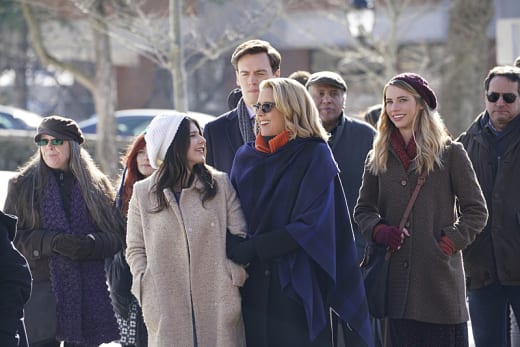 I have to give Elizabeth credit for trying to be a regular mom and tour a college with Alison, but I understood where Alison was coming from.
Alison knew by having Elizabeth there all focus would be on her mom. I was happy to see Stevie wanting to tag along to help her sister out and try to keep the focus on Alison.
I'm really loving Stevie's personality change this season. It seems like she's really starting to grow up. I admit I was a little nervous they ere going to continue having her be the black sheep of the family, but I've been pleasantly surprised by her progress.
I knew the moment Blake mentioned they'd have no problem being anonymous something was going to happen. I couldn't help but feel absolutely terrible for Alison when the protestors showed up and wanted answers about the mining in Chile.
Of course Elizabeth's words would be twisted and Russell would catch wind of it. Was I the only one who was laughing at Elizabeth's reaction? It was such an absurd situation to be in. I surprisingly agreed with Russell about the issue, no matter how ridiculous, was a problem for the administration.
Elizabeth had to know the college kids would make it look as though the government didn't care. At the same time, had she taken Stevie's advice about ignoring them, she would have still looked like the bad guy. Elizabeth was screwed either way.
I did love Russell's advice to Elizabeth on how to make the situation go away. Who else wants to see those witty tweets or a Colbert appearance? I admit my favorite thing about the entire college visit was Blake. The banter between him and Stevie was fantastic.
These two really need to be in more scenes together because they work well together.
The only downside was the lack of Jibral Disah. They've been building this man up as one of the most wanted terrorist, but it just seemed like it was pushed to the back burner. At least we got to see Henry and Jose almost getting along.
In the end, the conflict in Child was resolved rather quickly, but the best moment was when Elizabeth, Stevie and Alison finally had some fun. It was nice seeing Elizabeth letting go of the stress of her job and just enjoying time with her girls.
Now it's your turn! Did you think they should have focused more on the Disah storyline? Did you enjoy seeing Blake interact more with Elizabeth and the kids?
Don't feel bad if you missed out! You can watch Madam Secretary online now via TV Fanatic. Just make sure to come back to let us know what you think.
Samantha McAllister was a staff writer for TV Fanatic. She retired in November 2018.