Younger Season 2 Episode 11 Review: Secrets & Liza
Carissa Pavlica at . Updated at .
Well that's one way to skin a stall rabbit!
Seriously, it just hit me what happened, and I finished watching Younger Season 2 Episode 11 about 20 minutes ago. It really had to sink in. Thad's gone.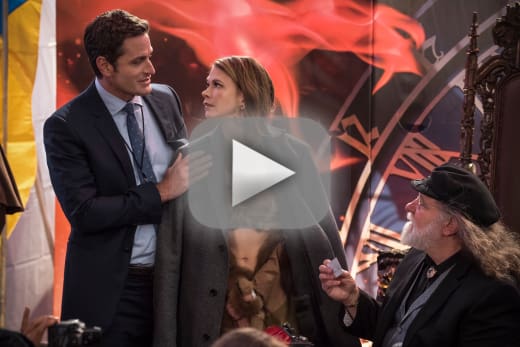 Granted, we didn't see the body, but that's hardly something we're going to see unless they're going for a Final Destination vibe.
It almost had a supernatural vibe to it. As soon as Liza was willing to put her own life on the line for Kelsey's, destiny stepped in and plucked the life of the jackass right off of the planet. Only the good survive and all that jazz!
The only possible negative that could come of this is Liza's being a witness to his death. That has to go on the record, right? But Liza is quick on her feet, and if Thad was able to cover his tracks in the office, surely Liza will cover hers in respect to being at the most bizarre place at the wrong time.
What I noticed, also pretty late in the game, was that I didn't mind the absence of Josh. I'll just publicly apologize to my sister right now. There was so much story being covered with Edward L.L. Moore and his "Crown of Kings" release that I was really well occupied.
It was very cool to think that Empirical was the publishing house responsible for the Game of Thrones in Liza's world. Fans are crazy, and you sometimes wonder if what you're reading or watching is as great as you think it is or if you've fallen prey to the hype.
My favorite moment of the episode was when Charles and Liza were at the pub after the Times Square event.
Charles: The idea that my company, my grandfather's company, can't survive without the overwritten fantasies of some handsy old man...
Liza: They really are overwritten.
Charles: Thank you.
Liza: Are you sure you don't want to hear about the sales on Amazon?
In that split second when it seemed Liza would have no alternative but to tell everyone her truths – that she graduated in 1996 and is not a costume character in Times Square – I imagined after that conversation there being no way Charles would turn her away, even with the lie.
Of course, we have no idea what his answer was going to be to what he would do if he had to start over if Empirical crashed and burned, but something tells me we will hear it eventually.
Have you noticed the way Liza looks at him when they talk? I have pointed out how differently they communicate than Liza and Josh, but Liza and Charles reach each other and a completely different level. It's something you don't see very often. Partly because not many actresses can turn that on without it looking cheesy.
Sutton Foster manages to impart a feeling from Liza that is interested in Charles so that she can shut out everyone else in the room and just listen.
Until her damn phone jingles and her own face flashes back from 1996. Then her heart in in her stomach, there's a knot in her throat and a din in her ears making it impossible to hear anything. Thanks, Thad.
Liza paid her dues. "Beware the wrath of the sky!" Maybe the last line of the novel was, "Thad dies." No wonder Liza couldn't tell Kelsey.
Other notes:
So, do you think George R.R. Martin will watch and get a giggle?
Could Sutton Foster have any more of a six-pack on her abdomen? She really is a goddess.
"Oh my God. You're a costume character in Times Square?" Poor Caitlin. She signed up for chemistry because of that!
Of course Diana speaks Kronish or however one would spell it. Probably Nothrami, too.
What did you guys think? How will Kelsey react to Thad's death? Will this be a wakeup call for Liza or will she keep riding the wave?
Don't forget, you can watch watch Younger online right here via TV Fanatic! And before you ask...yes, I know what is in the slideshow below. Get your giggles on, folks.
Carissa Pavlica is the managing editor and a staff writer and critic for TV Fanatic. She's a member of the Critic's Choice Association, enjoys mentoring writers, conversing with cats, and passionately discussing the nuances of television and film with anyone who will listen. Follow her on Twitter and email her here at TV Fanatic.