Things are not looking to good for Mike on Suits Season 6 Episode 7.
His deal fell through, Kevin is pissed at him, and Gallo is threatening to make things a whole lot worse.
What will be his next move?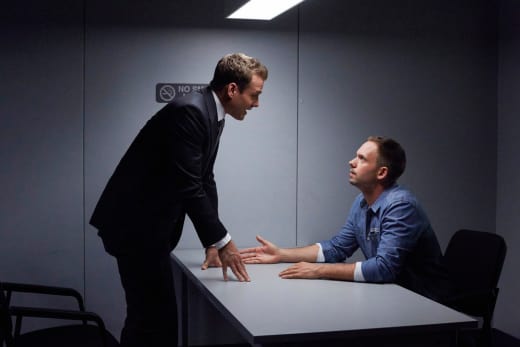 So far he doesn't actually know his deal fell through, and we have to wonder if Harvey will tell him right away, or put it off while he tries to find another way to get it back on the table. It's safe to say if there is another way, no matter how remote, Harvey will find it.
But, Mike has other problems. If he doesn't get out, he better damn well hope that Harvey can get Gallo out. It was bad enough when Mike just had to deal with Gallo, but what happens if Gallo makes good on his threat and tells Kevin? That's going to make things pretty uncomfortable for the next two years.
Harvey's been so focused on the case and Mike that he hasn't had any time to think about Gallo, so who knows if there's even any progress there. He is going to have to decide between focusing on Gallo's case, or getting Mike's deal back on the table.
At least Harvey has Louis to help him now. Thank goodness he finally brought Louis into the mix. I was getting so tired of Louis having nothing to do but pine over this woman and whine to Donna. It was great getting to actually see him be a lawyer again.
He came through in a big way too, except the guy came forward on his own thanks to Harvey's scare tactics. But of course, Cahill can't share that information. I'm guessing Louis' breakthrough is going to end up playing a part in Plan B somehow.
What I think is if you can't figure out how to have a simple date with a woman who's already agreed to go out with you, then maybe you don't deserve to go out with her in the first place. How's that for advice?

Donna
It's hard not to appreciate the love/hate relationship between Donna and Louis. I can't blame her for being tired of playing third wheel in this relationship. This woman agreed to go out with Louis after his over-the-top antics, so who really knows how she would have reacted to him whisking her off to Paris for a first date.
Luckily, Donna came through and got him to tone it down to a normal first date, but it turned out to be anything but normal. I can't say I was expecting her to drop the bombshell that she's in an open relationship with someone else.
Louis now has some serious competition and a lot of resources at his disposal. I'm betting he knows everything there is to know about this guy right down to his fifth grade teacher by the end of the week.
Does the open relationship make this story line more interesting? I'm honestly just not invested in it, and was much happier to see Louis working with Harvey again. I care way more about that relationship, as well as his friendship with Donna than I do about this potential romantic one.
I might even care more about his truce with Stu. Now THAT was surprising. Donna really can work miracles. The mugs were the perfect peace offering.
Jessica: No you have him for this, because we don't have time. After that, you get your own guy.
Rachel: I don't understand, why can't I use your guy too?
Jessica: Because then he wouldn't be my guy.
Rachel and Jessica called in the big guns to make progress on the Leonard Bailey case. Jessica temporarily (as in, just this once) shared her "guy," and Rachel now owes her father a big favor.
Sadly, it might have all been for nothing, because the witness they've been searching for is DEAD!
Now what?
Rachel was visibly shaken by the victim's dad blindsiding her, and this new development is sure to shake her confidence. I don't see her giving up, but the outcome is looking pretty bleak.
She doesn't have a lot of time to find another reason for the case to be re-opened. Do you guys foresee a happy ending here?
What about Mike's situation? Going to Kevin's wife was a ballsy move, and so far neither one of them is willing to make a deal.
What do you guys think? Is Mike's deal officially dead, or will Harvey find a way to resurrect it?
If you missed anything, be sure to watch Suits online and catch up!
Stacy Glanzman was a staff writer for TV Fanatic. She retired in March, 2019.