Designated Survivor Season 1 Episode 9 Review: The Blueprint
Lisa Babick at . Updated at .
It's the calm before the storm.
Even though Designated Survivor Season 1 Episode 9 was a relatively calm hour, the pieces are starting to come together. Will we finally find out the details of the Capitol bombing?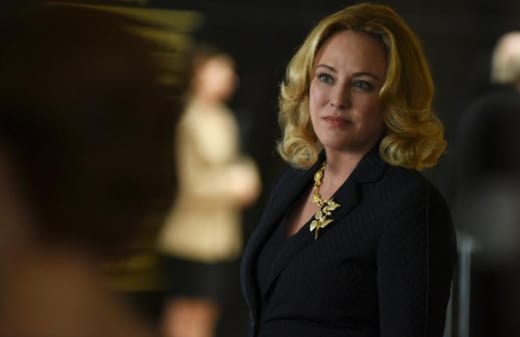 It's not difficult to follow what's happening on this show, but sometimes it seems the little details falls through the cracks.
For example, did anyone else remember the information about the CIA operative? When Hannah found the picture of him and the operative, I had no idea who I was looking at and why.
It was pieced together nicely when she met with her CIA contact, but I still didn't get the urgency of it all.
Isn't MacLeish being harangued by the same people that put Jason in the situation he's in? MacLeish isn't being puppeteered, isn't he? That's the feeling I got after the end of Designated Survivor Season 1 Episode 8.
Maybe I was wrong, but it doesn't make any sense.
Hookstraten is excited to be getting her "hooks" into something meaty. She doesn't care what it is, she just wants to bring Kirkman down. It's sort of a ridiculous thought that she's being so hard-nosed so early in the reconstruction of the government.
But, I guess sometimes things don't change at all. They just stay the same.
This is a confirmation, not a coronation. It's not our job to give the President what he wants. Our job is to determine what's best for the country.

Hookstraten
I'd like to believe that Hookstraten is doing what she's doing for the betterment of the country, but she's made it very clear, previously, her main goal is to bring Kirkman down.
It's a shame that she feels that way. Kirkman has been doing a pretty good job lately. And, considering everything that's happened, you'd think that maybe people would like some peace.
But, as I said, things really don't change at all, do they?
I'm not sure if the information Hannah has will be enough to bring MacLeish down. Will she even get to Hookstraten to deliver the information?
It certainly wasn't surprising that someone slammed into her on her way to the hearing. I was expecting it sooner. In fact, I thought she was going to get a bullet in her head when she was meeting with the CIA guy.
I don't trust anyone who has things handed to them in life.

Hookstraten
Does anyone else get the feeling that she's being completely played? That guy isn't giving her solid information. Why does he continue to give her stuff in a piecemeal fashion?
He had all this information previously, why not give it to her the first time around? It makes no sense.
And. while I said in my last review I was going to give up on pointing out the logical inconsistencies of this show, I have to point out two things.
The first is why would this CIA guy bring a whole pile of information to a public meeting with an FBI agent? Couldn't he have just taken pictures of the document he wanted to show her? It seems a bit to much for him to be lugging all that paper when he's trying to be discreet.
Second, if she's got the flashing lights on, shouldn't people be moving off to the side to let her pass by? The taxi stopping directly in front of her with the guy staring at her like she was an idiot was truly a laughable moment.
So, what do you guys think the big "GASP" will be next week? What did you think of this hour?
Are you still intrigued with this political drama or are you bored with Kirkman and his daily travails? Hit the comments below and share your thoughts!
If you need to catch up, you can watch Designated Survivor online anytime, right here via TV Fanatic.