The White Princess Season 1 Episode 4 Review: The Pretender
Elizabeth Harlow at .
Everybody's keeping secrets on The White Princess Season 1 Episode 4, and somehow Teddy is the one getting screwed most of all. Honestly, if therapy had existed in the 1480s, think of how much of this could have been avoided?
Of course, some would argue that interfering mothers-in-law have not been slowed down by modern day therapeutic psychology, but at least their interferences don't lead to the deaths of thousands any more.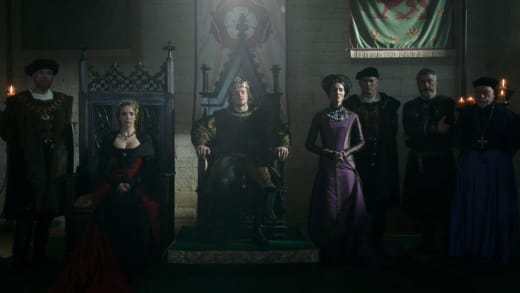 It's a tough competition, but if forced to decide who is a more terrible mother-in-law, I'd have to go with Margaret Beaufort.
Elizabeth may be out for Henry's head, but it's not really personal. It wouldn't (and didn't) matter who was on the throne, as long as she had even the faintest hope that her son was alive, she'd be planning a coup.
Had Richard III lived, he'd be the one she was unseating. It makes her a terrible mother, since her plan was always to marry Lizzie to the winner of Bosworth, but as a mother-in-law generally, she's almost tolerable. If Lizzie's husband wasn't on the throne, she'd have no problem with him.
You confuse me. I know you love Henry and love God, and yet there is so much hate in you.


Lizzie [to Lady Margaret]
But Lady Margaret was always going to butt heads with her daughter-in-law. Lady M's long separation and just-this-side-of-creepy attachment to her son doomed any woman he married to a hellish relationship with her.
The fact that Lizzie is a York only makes things worse for her. Margaret has long blamed the York's for every evil in her life, as erroneous as that may be. Certainly the Yorks had nothing to do with her marriage at twelve years old, and can only be partially blamed for her initial separation from Henry.
Throw in a Margaret's not so secret desire to wield the power of Queen, and things were doomed. If you thought having to listen about to passive aggressive housekeeping or child rearing tips was bad, at least your mother-in-law isn't plotting to have your mother killed.
You know, after she already had your brothers murdered.
She told me nothing. Because my mother no longer trusts me! She saw before I did myself that I am Tudor now. The birth of Arthur makes me so, whether I like it or not, because I will never stand against him. Our son puts me on your side forever. You may disbelieve it if you choose, but you are all I have now. Our family is all I have.

Lizzie [to Henry]
One of the things that intrigues me about this portrayal of Margaret Beaufort is that her scheming so often has the opposite effect of what she intended. She gets what she wants eventually, but she doesn't always get there by the most direct route.
Take the whole situation with Teddy. What, really, would have been the harm of keeping him at court? It actually seems like it would have been the smart move; not only would it prevent an impersonator leading an army, but it would be clear to all that he wasn't capable of taking the throne.
And with his kind of simplicity, kindness towards him would earn unending loyalty. It doesn't seem like it's be so hard to convince him that he doesn't want to be king.
He is just a child, Henry. You have seen how scared he is. How lonely and unloved. Can you say you have never felt that?

Lizzie [about Teddy]
So Lady Margaret's "plot" to incite a riot gained her nothing, and actually put Henry in an even weaker position. And she only did it to spite Lizzie. She's really just so terrible at playing the long game.
She's just as bad in her personal life -- she gave up the eventual possibility of marrying Jasper Tudor for the more expedient option of Lord Stanley.
We have lived our lives for Henry. And I do not regret a moment of it. But now, in twilight years, might we not venture to cherish something for ourselves?

Jasper [to Lady Margaret]
Poor Lizzie is the one currently bearing the weight of Lady Margaret's impulses, with Teddy imprisoned, her sisters and cousin auctioned off, and her mother turning against her.
While Cecily has always felt slighted by Elizabeth, Lizzie was her favorite (of the girls), her coconspirator, the carrier of hopes and dreams. With her mother's betrayal, she has lost her anchor, she is suddenly left to survive on her own.
Jodie Comer is owning every scene she's in because she's able to portray Lizzie's internal conflict so well. It helps that, as the protagonist, she gets the best lines, but she brings them to life, and conveys so much with just a look.
She told me nothing. Because my mother no longer trusts me! She saw before I did myself that I am Tudor now. The birth of Arthur makes me so, whether I like it or not, because I will never stand against him. Our son puts me on your side forever. You may disbelieve it if you choose, but you are all I have now. Our family is all I have.

Lizzie [to Henry]
It's a little ridiculous how thick Henry is, how blinded he is by his paranoia. Honestly, I don't know how Lizzie could come to feel anything for him when faced with his unrelenting suspicion and constant accusations. Stockholm syndrome, perhaps?
It's baffling to me how he could show compassion to Lambert Simbal but not to Teddy. It seems the kings of England are constantly trying to find the balance between being too forgiving of traitors and too harsh on them, and they never quite get it right.
The boy is just a boy. A pawn for an adult game he that he doesn't understand.

Richard Pole [about Lambert Simbal]
At least Henry seems to finally be coming around to taking charge of his own life. Maybe it's fatherhood, maybe its being faced with damning other children the way he himself was damned.
Maybe he just wants to be able to get it on with his wife without his mother walking into the room.
Whatever it is, our story is on an upswing -- for now. And it seems that Lizzie and Henry will have a few years of respite before their lives are upended by their mothers once again. But does a longer calm mean a bigger storm is headed their way?
Henry: I kept my promise and now you will keep yours. We will be happy.
Lizzie: You know she won't give up, don't you? My mother?
Henry: Lizzie, she has done her worst, and look at us. [kisses baby Arthur] We're still here. [kisses Lizzie[
Get ready for the first significant time jump on The White Princess Season 1 Episode 5 ("Traitors"). Margaret of Burgundy is finally ready to reveal her surprise visitor to the rest of the world, and invites her niece Lizzie and her husband for a visit.
Of course, Henry isn't thick enough to head to the house of the woman who is trying to unseat them. Poor Maggie is dragged from idyllic life of quiet in the countryside and sent to Burgundy to discredit the Duchess' claims, no matter what the truth of the situation may be.
Speaking of truths, we'll find out how far Lady Margaret will go to protect hers. Even as the king's mother, her role in the murder of the York boys could bring her down. Whoever knows her secret will find themselves in peril.
I have no power anymore. I have these four walls and your sisters and that is all.

Elizabeth
You can watch The White Princess online, and then join us in the comments section for more conversation!
What did you think of the scene juxtaposing Maggie's marriage with the Battle of Stoke Field? Is Cecily getting nicer, or is she still the same vapid girl even if she is married? Which outfit was your favorite? W
Elizabeth Harlow was a staff writer for TV Fanatic. She left the organization in October 2018.