American Gods Season 1 Episode 6 Review: A Murder of Gods
Caralynn Lippo at . Updated at .
Wednesday and Shadow were double crossed on American Gods Season 1 Episode 6, while an unexpected combination of other characters went on a road trip.
Personally, I was far more intrigued by what was happening with the latter – Laura, Salim, and Mad Sweeney – than the so-called "main" action.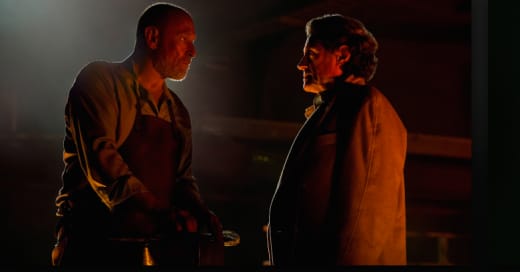 "A Murder of Gods" (so named for Mad Sweeney's promise to a jinn-seeking Salim that he'd help him find "a whole murder of gods" and demi-gods, including the jinn) picked up right where American Gods Season 1 Episode 5 left off.
Shadow and Wednesday were fleeing the police station and Laura was making her way from the morgue back to the motel.
Interestingly, this hour gave us our first direct indication that Wednesday might not have Shadow's best interests at heart and, in fact, may be working against him.
I'm talking, of course, about Wednesday trying to convince Shadow to let go of Laura, to let her fade away, and actively distracting him from seeing her as she ran after their car.
I'm not sure why, exactly, keeping Laura away from Shadow is such a big deal to Wednesday. Is it just because he wants to alienate Shadow from the person he was so that he can maintain tighter control over him? Or is it something deeper and/or darker?
In any event, I love Wednesday for driving away and cranking up the music as Laura ran after their car because it gave us one of the most bonkers road trips I've seen in any TV show or movie.
I am the dead woman. Where is my fucking car?

Laura
Without a car, Laura wound up needing to depend on Mad Sweeney to steal her a new one. Lo and behold, the taxi he stole wound up being Salim's.
Salim, you'll remember, was the former businessman turned taxi cab driver who had his ~intimate encounter~ with the cab-driving jinn on American Gods Season 1 Episode 3.
I can't say I expected to see Salim again, but he provided a great "middleman" to Laura and Mad Sweeney's back-and-forth non-stop sniping at one another.
All of the scenes between Laura and the oversized leprechaun are my absolute favorite departure from the books.
In general, I'm a fan of Laura's increased presence and the larger focus on her character arc. But beyond that, Emily Browning and Pablo Schreiber have fantastic chemistry (not romantic at all, mind you).
In the Laura/Salim/Mad Sweeney scenes, there were great character moments and an interesting plot invented for the show.
Sweeney convinced Laura that he'd take her to see "a friend," so that he could resurrect her properly. It was slightly unclear, but I'm fairly certain that by "friend," Sweeney meant Wednesday.
Mad Sweeney: I've done the math. This times that equals you're a cunt, divided by the only way I'm going to get what I need is if you give it to me, equals the only way you're going to give it to me is if you don't need it. Like my friend Jesus Christ, the only thing you need, dead wife, is a resurrection.
Laura: Did you just name drop Jesus Christ like you know a guy who knows a guy?
Sweeney wasn't doing this out of the kindness of his heart, naturally. He was doing it as a ploy to get his coin back. In fact, I'm not 100% sure that he's even being honest with Laura in what he's planning.
I'd far sooner buy the idea that Wednesday could somehow just yank the coin out of Laura for Sweeney (though I don't think Wednesday is too inclined to do the leprechaun any favors).
The road trip had a sidebar which also proved that Laura does still have some feeling in her cold, dead heart – she directed Salim to head to Indiana, not Kentucky, behind Sweeney's back, so that she could peek in on the family she insisted she hates.
"Fuck those assholes," indeed.
While Sweeney and Laura are supposedly on the same mission (resurrect Laura properly so she can get Shadow back and Sweeney can get his coin back), Salim is on one of his own: Find the jinn who gave him a new life.
Why? Because he's "his afterlife." Whatever that means. I assume that Salim just wants to be with the jinn, romantically. Or maybe the taxi life isn't for him after all?
Salim opening up about his time with the jinn also gave us this classic, ridiculously crude line:
Did you have a genie in your bottle? Did you rub one out of him, darling?

Mad Sweeney
Oh, Mad Sweeney. Schreiber delivers all of his dialogue with such supreme douchebaggery. It's perfect.
Meanwhile, Shadow and Wednesday headed to Vulcan, Virginia to see Wednesday's old pal Vulcan.
Stylistically, this next stop on their god-recruiting journey was awesome. I loved the entire "Come on Get Happy" sequence at the factory.
Plot-wise, their tete-a-tete with Vulcan was also interesting, albeit less so than the road trip. At the very least, it has huge implications for the larger war between the new gods and old gods. It also marked a turn in Shadow and Wednesday's partnership (and how Shadow views his boss).
The gist of Vulcan's necessity was to introduce a character that straddled both the new and old god worlds. In fact, he was created just for that purpose – he didn't exist in the original book, and Neil Gaiman created him just for the show.
Corbin Bernsen did a great job with the role, and he was every bit as self-satisfied and smarmy as I'd expect of someone who gets their power from gun-toting "proud Americans." Groan.
There aren't just two Americas. Everybody looks at Lady Liberty and sees a different face. Even if it crumbles under question. People will defend the warm, safe feeling their America gives them. They will defend it with bullets.

Mr. Wednesday
Politically, it's hard to ignore how terrifyingly relevant Wednesday's "America" speech was in his introduction of Vulcan to Shadow.
I do have to say: Vulcan's manner of franchising his worship was genius. It also made perfect sense that he would throw in with the new gods and betray Wednesday. Can't even really fault him for that.
Media, technology, and corporations have done wonders for getting people interested in guns, after all.
I was a story people forgot to remember to tell. And they gave me a gun. They put power back in my hand, and I gotta tell ya, it feels good. Every bullet fired in a crowded movie theater is a prayer in my name. And that prayer makes 'em wanna pray even harder.

Vulcan
Wednesday pushing Vulcan into the molten metal was a badass move, but I have to question exactly why Vulcan didn't see this coming. What was the point of announcing to Wednesday that he'd betrayed him before the new gods arrived?
Why give his lengthy speech about his reasons for betraying him and the new gods being "the tide"?
As great as it was to see Ian McShane's Wednesday cut Vulcan down with his own forged blade, kick him into "lava," and then pee on the molten remains – it honestly didn't make a ton of sense that Vulcan was that easy to kill.
Stray thoughts:
Mexican Jesus, as featured in this installment's "Coming to America" opening sequence, was first mentioned by Mr. Wednesday back on American Gods Season 1 Episode 3, when he listed all the various Jesuses. I wonder if we'll see any of the others?
Speaking of which: Visually, Mexican Jesus' death was stunning, if just a tad bit corny (those stigmata wounds from bullet holes...)
The sequence, however, was jarring and harrowing, to go from such a celebratory moment to such a bloody one. All courtesy of Vulcan's bullets, no less!
Shadow still doesn't know which god Wednesday is, which leads me to believe that Shadow didn't pay very much attention in the mythology sections of history class in high school.
That shot of the bullets hitting just past the clouds and falling back to earth was super cool.
Wednesday getting whatever that thing was out of Shadow was terrifying, visually stunning (of course), and very creepy. Also creepy: Wednesday's Mr. Wood speech.
There's always been a god-shaped hole in man's head. Trees were the first to fill it. Mr. Wood was the trees. Mr. Wood was the forest. Well, he was a very old god who saw something very new. He saw a god-fearing society turn towards complete industrialization. So what did he do? He sacrificed his trees. He sacrificed his forest. And he became something else.

Mr. Wednesday
What did you think of "A Murder of Gods"? Share your thoughts by commenting below, and remember that you can watch American Gods online here at TV Fanatic anytime!
Caralynn Lippo is a staff writer for TV Fanatic. Follow her on Twitter.