Pretty Little Liars Season 7 Episode 17 Review: Driving Miss Crazy
Paul Dailly at . Updated at .
Is Mona seriously working for the bad guys?
I can't help but roll my eyes after that final scene of Pretty Little Liars Season 7 Episode 17.
When Mona locked the door on Emily, it was so obvious she had a makeshift A lair in her apartment.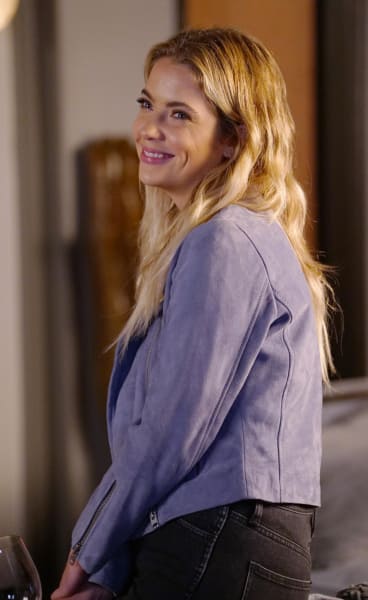 I can't be the only one who thought it was just her space to try and think like the villain to figure out who the heck the perpetrator is. The shovels, however, are a huge red flag. Are we to assume she got them to save Hanna's ass or is she up to something more sinister?
With a handful of episodes left, the show was poised to kick the red herrings into overdrive. There are pros and cons to Mona working with the villains, but I would like to think she had put all of that crap behind her after everything that happened in the past.
It's difficult to assess whether the liars are right to keep her at arm's length. She was the original A, after all. Remember how deranged she was just a few years ago?
There's no telling how quickly her mood could change and have her fighting against the liars.
She's come a long way over the years, helping them out of some of the toughest situations, but could that have been part of her plan all along?
Pull them into a false sense of security and reclaiming the game for herself would be a ballsy move, but that wouldn't be a satisfying conclusion.
In fact, I don't see how any conclusion to this series could be satisfying. The questions are being answered at such a slow pace that the series is poised to sign off with a lot of answers left out, and that's pretty crappy.
You can tell Alison you love me, Em. That hasn't been a secret since we were in brownies.

Mona
Having Emily working together with Mona was certainly different, but Emily realized straight away there was something different about her. I can't fathom why she would treat Emily like that, fully knowing she would tell her friends.
Anyway.
The doctor the two girls pursued was sketchy, but that's the norm with new characters on this show. He's been doing some dodgy dealings and did not want it to become common knowledge in case he lost his job. Of course, he was no match for the quick wit of Mona and Emily.
Aria is spiraling. She must have felt horrible for planting the burner phone in Spencer's house. Spencer is a smart cookie, and something tells me she's been on to Aria since the whole earring incident on Pretty Little Liars Season 7 Episode 16.
I'm thankful Aria did the dirty work for the villain, because it helped us at home get closer to the truth. I don't believe a word that escapes Peter's mouth.
He never tells the full story to anyone. Spencer deserves answers about her life.
Instead, she's finding out her father is more wicked than she could ever have imagined.
Joining forces with Jessica to murder Mary was another one of his dumb moves. If he got rid of Mary, who was to say Jessica was not going to cause problems for him?
Mona: Sorry, I'm late. What did I miss?
Spencer: Um, an invitation.
The best thing he could have done was round his family up and move them far away from Rosewood. I feel awful for Veronica. She's giving up her dream because she's scared the many secrets of the Hastings family are leaked to the media.
Even if she ditched Peter, A.D. would still likely find a way to cause some trouble. Nobody can realistically move on because of the threat of their life being ruined in one fell swoop by A.D. and that sucks.
With Aria playing both sides, it is affecting her relationship with Ezra. The dude does deserve some tough love for the way he brushed Aria to the side in order to save Nicole.
That musical dream was awful and felt thrown in there just to get the fans talking. I laughed out loud at how random Veronica's comment was to Aria.
In the midst of all the doom and gloom, Caleb and Hanna finally solidified their relationship by getting engaged.
I don't know about you guys, but I already had it in my mind they would be getting married.
It was like one of those plots that did not need to be addressed. It did coincide with the return of Ashley Marin, who has been MIA for too long.
I get that the show is trying to show us that the liars are all grown up, but they still need their parents around.
"Driving Miss Crazy" was not great. It was all over the place, with the characters all going in different directions. There were some good scenes, but they were ruined by the sheer amount of nonsensical plot twists.
Remember you can watch Pretty Little Liars online right here on TV Fanatic. Get caught up now!
Over to you, Pretty Little Liars Fanatics. What did you think of the episode?
Sound off below!
Note: Pretty Little Liars continues June 13 on Freeform.
Paul Dailly is the Associate Editor for TV Fanatic. Follow him on Twitter.