Keeping Up with the Kardashians Season 14 Episode 12 Review: Press Pass
Jay Ruymann at .
The evolution of the Kardashian-Jenners has arrived and, no, we were not ready.
Keeping Up with the Kardashians Season 14 Episode 12 introduced a new concept to Khloe, Kourtney, Kendall, and Kris: media training. How has this family survived ten years in the spotlight without a single media class?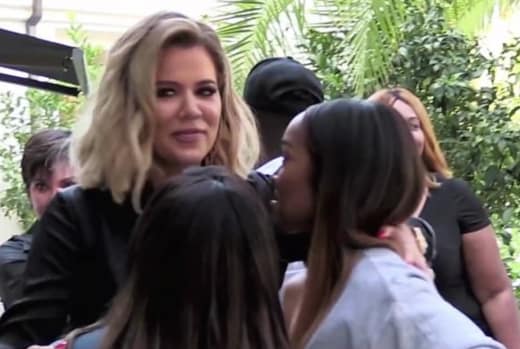 It's a lot of work to be front and center. It's easier to be in the background.

Kris
I want to say it's astounding that this family, who hasn't had one thing happen to them in the last ten years that didn't explode in their faces, has never taken a single media training class and learned how to give an interview.
Their lack of interviewing skills is definitely something that has always been criticized in the public eye (and the amount of times they say "like," "literally," or "Bible"). If they had these skills years ago, so many scandals and accidentally slips could have been avoided.
The person to watch during this training, though, was definitely Kris. She's been in the spotlight the least; by that, I mean she's always been pushing her daughters to get further into the spotlight, but she's never wanted to be.
Especially after the Caitlyn fiasco, Kris' time in the spotlight was further diminished due to the onslaught of questions she received every time she left her house.
Going forward, these skills are definitely going to be very useful for the family. Especially for Kris and Khloe. Kendall's a model and doesn't do press nearly as much as her other family members so she's good.
Kourtney, however, is terrible at doing press, and she just doesn't care so it's not likely she paid much attention to the training and techniques they provided.
Khloe, Kim, and Kris are the all-star business women in the family.
I want to be a part of the new Jane Fonda and Suzanne Somers.

Khloe
Kim's already taken classes like this, so she knows what to do and that's why she's the most skilled in her family. She's the only person whose seen the advantages of taking fame seriously and using your power for good.
Most improved goes to Kim for the past decade; if anyone from ten years ago could see the star Kim has transformed herself into, they'd be shocked and the Kardashians probably wouldn't get as much heat as they do.
(I'd count Kylie, but does she even exist anymore? Her lip kits are selling like wildfire, but she's hardly been seen on the show this season. Does Kris have her tied up in the basement to hide her stomach that proves whether the pregnancy rumors are correct?)
For Kylie not really being in the show, it's all about Kylie. At least for Kendall.
Kendall clearly doesn't really want to be on the series, and it shows. Her disinterest in participating ruined the media training because she was so bad at it and ruined the experience for everyone else until she left.
Not only that, but everything she did was brought down by her "butting heads" with her sister over some party. If the show is going to dive into sisterly drama, they might as well show both sisters, right?
All we saw was Kendall's perspective, and it was quite annoying.
You guys have never dealt with something of this magnitude.

Kendall
Kendall just doesn't really fit in with anyone in her family either, except for Caitlyn, so watching her try to bond with everyone (or feign a bond with them) is exhausting. Both for viewers and for her.
It's definitely one of the biggest things on the show that just feels fake.
I want to be a part of the new Jane Fonda and Suzanne Somers.

Khloe
Khloe's really coming into her own after all of these years and finding what she's interested in, what she's good at, and hopefully we continue to see her life be a success. Unfortunately, it was promised we'd see whether she was pregnant or not, but we didn't.
However, the preview for when the series returns in January basically confirmed it by everyone telling her "congratulations" so make of that what you will. Speculate in the comments below. I'll join you.
As for Kourtney and Khloe's short-lived adventure on this episode, it's fitting for the direction Kourtney has been headed. It's tiresome to see Kourtney slack on everything, including being a mother, and then say she's "so busy." Where?
Where are you busy? What are you busy with? Yes, being a mother is exhausting and you're always working as a mom, but it's not like she always spends time with her kids.
From who is the most interesting at this point in their lives, I'd much rather watch an entire hour dedicated to the lives of Kim, Khloe, and Kris. The rest just don't cut it anymore.
What do you think? Leave your thoughts in the comments below!
You can watch Keeping Up with the Kardashians online right here at TV Fanatic!
Jay Ruymann was a staff writer for TV Fanatic. He retired in January 2018.