What started out as a simple suicide investigation turned out to be far more than Team Gibbs expected on NCIS Season 15 Episode 12.
While not an in-depth study into or profound examination of the causes of suicide, the episode provided an interesting story that kept the theorizing going until the very end.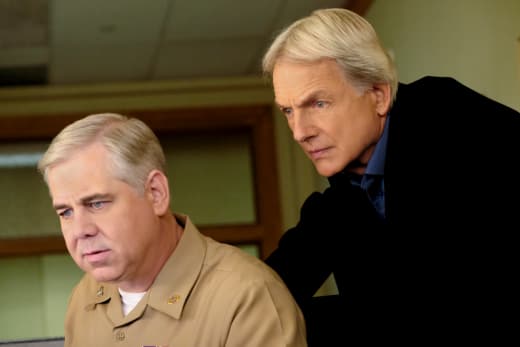 First off, I want to express my joy at the brief delightful appearance of Patrick Labyorteaux as Captain Bud Roberts, who last appeared in NCIS Season 14 Episode 1.
While his role in the story wasn't large, it still brings me pleasure to see continuity honored and a larger universe recognized. With the seemingly ever-growing television universe around NCIS, it's all too easy to forget that NCIS itself is a spinoff of JAG.
But back to the episode proper.
Unlike many NCIS stories, where the team investigates a murder, this one revolved around them trying to determine whether or not the deceased committed suicide or was murdered.
Even to the last few minutes of the episode, there remained a sense of ambiguity to the situation, which was lampshaded by the characters in dialogue.
I picked up on the significance of Lt. Newhall's high school years the moment they specifically mentioned her low grades during that period, followed by remarkably high grades in every other academic endeavor afterwards.
It was also fairly easy to guess that she was punishing herself with her sexual proclivities, particularly once her costumer said that she liked it extremely rough.
Putting these items together made it likely that something traumatic of a sexual nature probably occurred during high school. Cue the abusive teacher reveal.
What surprised me was that Newhall and her best friend Kerry ended up killing said abusive teacher (unintentionally, if you believe Kerry's story). That ended up being the driving force behind the lieutenant's suicide.
It was fairly convenient that Newhall did end up leaving a suicide note to back up Kerry's story; in reality, not everyone leaves behind any sort of explanation.
To make matters worse, sometimes there are no obvious clues or markers indicating to anyone that a suicidal person was struggling, depressed, or in any way contemplating their own demise.
The episode stopped dead to offer a PSA on suicide prevention, but that was about it for that sort of introspection, as far as the plot and characters went, which was really too bad.
Even Kerry's sadness that she had to mourn her best friend twice -- once for her actual death, the second for the loss of the person she thought she knew -- was seriously undermined by the reveal that Kerry knew all along what was going on.
One other detail worth mentioning about Kerry, the supposed best friend: she found Newhall's body, and instead of, I don't know, calling the paramedics, the cops, anyone, she just left her hanging there for her parents to find later.
Well, she took the incriminating suicide note!
All she really needed to do was call in a welfare check to the local police department, say that she got a worrying phone call from her friend, and ask the cops to look in on her. At least then her parents or fiance wouldn't find her still hanging!
A few final thoughts before I turn the discussion over to you:
Gibbs and Bud Roberts are on an extremely friendly basis, similarly to Bud's appearance in Season 14. Somewhat amusing given one of Gibbs' Rules regarding lawyers!
Depending on the laws and statutes of limitations, Kerry could theoretically face charges of unlawful imprisonment, kidnapping, blackmail, and death in the commission of a felony.
Not a lot of quotable lines in this episode, but you can find some of them on our NCIS quotes page.
Don't forget that you can always watch NCIS online! The show takes a week off before returning with NCIS Season 15 Episode 13, "Family Ties," directed by cast member Rocky Carroll!
That episode is slated to air on Tuesday, January 23, 2017 at 8/7c on CBS.
What did you think of "Dark Secrets"? Were you able to put together the pieces before Team Gibbs? Were you surprised that Newhall committed suicide after all? Let us know in the comments section below!