You'd think that Toby reuniting with his former fiancée, Amy, would have been a bit more entertaining.
On Scorpion Season 4 Episode 13, Toby and Happy came face to face with Quincy, Amy, and photos of their honeymoon, in romantic slideshow format no less. Then, they get trapped in a bunker together. It was the perfect storm for hilarity, and yet none ensued.
Seriously, as far as cases go, this one wasn't the most entertaining. Being trapped together didn't yield any laughter, and the focus seemed to be on romantic drama rather than entertaining drama.
Toby didn't seemed phased by Amy's presence at all. He focused more on Quincy, and Happy focused more on Amy. Sure, Amy and Happy becoming friends was nice, but it's the only small upside to this.
Part of the problem is that we don't really get a sense of Amy.
She waltzed in without really introducing herself to anyone nor saying "long time no see" to maybe Walter or Sly (assuming she's met them before). You would have thought she would have said hello.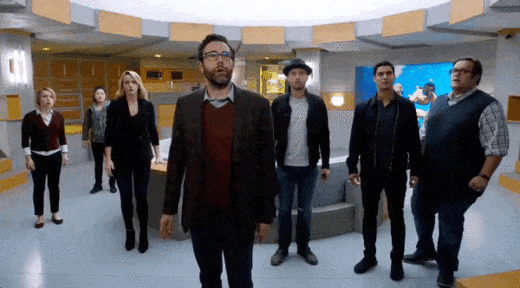 She doesn't get a chance to become her own person, and we struggle to get a sense of her.
Amy's immediately shown to have this weird calming effect over Toby. She even gets him to apologize.
There's not really a motive for her calming Toby down. She didn't even follow that up with some small talk or trying to catch up with Toby at all. You'd think we would have gotten a better sense of how their last meeting went based on how they interacted, but we didn't really get any interactions to base any conclusions off of.
Amy: Look I get that you don't get me, but for the life of me, I can't figure out why.
Happy: Seriously?
Amy: Yeah.
Happy: You're a foot taller, three times girlier, a bikini model geneticist with a house in Bali, with Svengali power over my husband.
Instead, it was all about Happy freaking out over Amy's looks, and Toby snapping at Quincy and trying not to get killed by Dorie.
It would have been great to get to know the woman that Toby was going to marry. All we know is what her bio on LinkedIn probably says and that her honeymoon wasn't all that great. A good honeymoon is apparently hard to come by.
Her personality is still a mystery, as is why she is married to Quincy, but it doesn't seem like that marriage is going to last for much longer. If my husband saved himself and sacrificed me, I'd be filing for divorce. Would you like to get to know Amy a little bit better?
Between you and me, I used to think that I was the winner because I got Toby, as much as anyone who gets Toby can be called a winner, but now that I've met you, I've realized that I was a consolation pick.

Happy
Dorie ended up being the most amusing part of the case mainly because Quincy programed Toby as a threat.
Dorie trying to kill Toby was entertaining, although there wasn't a split second where it seemed like she would and had actually killed him. Tobias Curtis dying by trash compacter? Please.
It's a little insulting that there was a moment where Happy and Walter thought he was dead. You can't get rid of Toby that easily, and there's no way Scorpion is killing him off. It isn't that kind of show.
Okay, let's shift gears to something that wasn't disappointing.
Dorie: Trash has no value. A threat has negative value. Tobias Curtis is a threat; therefore, Tobias Curtis is trash.
Toby: Hey Dorie, why don't you cram it up your motherboard?
Cabe winning his case didn't automatically mean that everything was back to normal, which is great because real life doesn't work like that. While we don't spend that much time on his requirement that he has to pass the fitness test, it's a thread of continuity.
Cabe's trial and arrest was a huge part of the first half of the season; it's not something that can be brushed aside and easily forgotten. Cabe's actions on the ice had consequences, as did his suspension from Homeland.
Hopefully, we'll continue to follow Cabe returning to active duty as a Homeland agent, and it's only a matter of time before Mark Collins pops back into our lives (unfortunately). He'll probably come back for the season finale. What's your theory?
What would be cool is seeing Sly use his legal knowledge from time to time.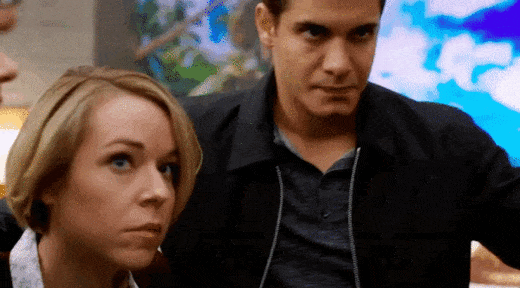 It would definitely come in handy during as he fulfills his Alderman duties, but it would also be fun to see it come into play during a case.
Sure, becoming a lawyer took like an episode, but Sly added another title to his name. It's something that sets him apart from his fellow team members, and it wouldn't be too farfetched if Team Scorpion stumbled into some legal troubles. Would you like to see more of Sly the lawyer?
What did you think of the episode? Any theories on what's to come for Walter, Florence, and Paige? Leave your thoughts in the comments below!
Remember watch Scorpion online anytime via TV Fanatic.