Scandal Season 7 Episode 10 Review: The People v. Olivia Pope
Paul Dailly at . Updated at .
I hope you all grabbed the popcorn because Olivia Pope is going down.
On Scandal Season 7 Episode 10, the gladiator-turned-villain made her way to Vermont in what was supposed to be a taste of what life would be like if she had gone to Vermont with Fitz at the close of Scandal Season 6.
Nothing ever really goes to plan in this world.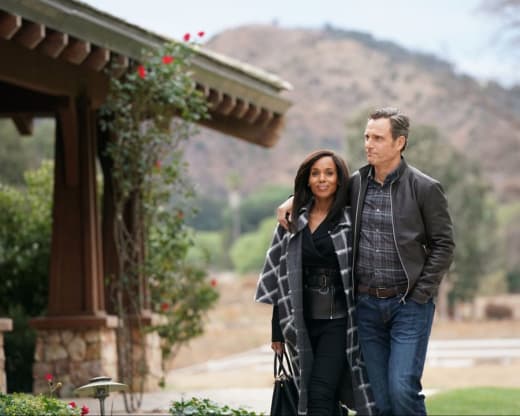 The funny thing about all of it was that Olivia assumed things were going good, but then she was introduced to those closest to her who were not impressed with her involvement in what happened to Quinn.
After everything Fitz has done, after everything that's been done in his name, he's not going to get up on his soapbox and judge me, is he?
Olivia is well known for her sassy one-liners, and boy, you could tell she needed a nice glass of pinot noir after throwing all of the shade at everyone in the room.
It's sickening to think that those closest to Olivia believe she is redeemable at this stage. She's too far gone, and let the power get to her head a little too quickly.
Manipulation is all she knows, and my heart broke a little when she tried to talk Huck around. You could tell it pained Huck to have her casting up all of the things she's done for him over the years.
Huck was madly in love with Quinn, so it made sense that he would draw a line under his friendship with Olivia after learning that she was part of the reason she was apparently dead.
While I agreed with Olivia that everyone in that room had done some shitty things over the years, they have all more than made up for it since. But Olivia wanted to break the mold and continue to have all the power in the world.
There was not a chance in hell Olivia was going to resign as Chief of Staff. If you watch Scandal online, you will know fine well that Olivia Pope is not a quitter and that she would rather give up a limb than quit anything.
Heck, that's why all of the stuff with Quinn has dragged on for dear life. She's like her father, but it's becoming a little too tiring to follow. Her having sex with Jake while the Gladiators eagerly anticipated her resignation announcement on TV was comedy gold.
In her mind, she had won the war and was ready to continue manipulating her way to the top. That's why her strutting into the White House the next morning like she owned the place was satisfying to watch.
Even though she thought Jake was on her side, he switched sides thanks to a deal Mellie offered him, and it reiterated the fact that you cannot trust anyone on Scandal.
Mellie has been so out of the loop that I teared up at the prospect of her having the last laugh by bidding farewell to her former ally. I so want her to say something along the lines of, "This is for boning my husband, bitch" on Scandal Season 7 Episode 11.
Mellie was on fire throughout "The People v. Olivia Pope." She didn't so much as bat an eyelid that Olivia and Jake made up a kill folder filled with some of her most scandalous moments.
She was a woman on a mission, and it was great. The good thing about this plot is that it will push her to be more in control of situations. For far too long she's been a mere mouthpiece for Olivia's agenda, and it sucks.
Mellie: Olivia murdered a head of State. Why?
Jake: Because you couldn't keep your damn legs closed. You were gonna go to war for that man. God knows what else you would done for him. Ending that threat was the right thing to do. Everything she's done has been support of you.
Mellie: Stop talking.
Jake: You may not see that now, Madam President, but I pro --
Mellie: Stop talking.
Jake slut-shaming Mellie was a step too far, but her response that Fitz "spread his DNA" all over the White House was everything! The last time I checked, Fitz was the one who stepped out on Mellie.
Jake: You set a meeting with White House Counsel?
Mellie: I did.
Jake: You don't wanna do that, Madam President.
Mellie: Do you know where Olivia's been for the last 24 hours? I know you don't because you were asking Secret Service to tell you. Well... I've just found out. She was in Vermont. Fitz led with legs wide open for eight years and we barely made a peep. Should we have killed Olivia? Blown up her plane? Would that have been the right thing to do? That man spilled his DNA all over this White House and all I did was -- This isn't about B613 Jake. This is about Olivia. She's bad for this country, and if you can't see that, you are as big a fool as i've been.

Jake sparring with Cyrus was scary. These are two powerful men who have proven they can switch to the dark side at the drop of a hat. Cyrus is not going to forget Jake holding a knife to his neck.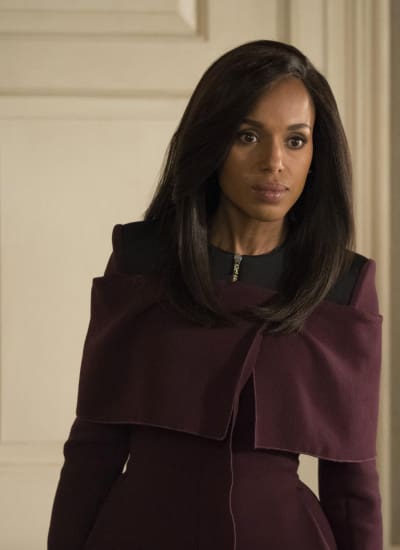 It would not surprise me in the slightest if Cyrus lured Jake into a false sense of security and slit his throat in retaliation. There's nothing quite like keeping your enemies close, and Jake is going to be all over the shop without Olivia around.
We finally got confirmation that Quinn is alive, and, well, it was rather dull. The only part of the scenes with Quinn, Charlie, Rowan, and Robin worth caring for involved Quinn and Rowan singing a Britney Spears song while Charlie looked mortified on the sidelines.
Charlie was relieved his wife-to-be and child were alive, but he felt out of place. Rowan had already built a bond with Robin, and that seemingly left Charlie out in the cold.
Charlie exiting the situation without staying over certainly raised alarm bells in my mind. Is he going to off Olivia, or is he genuinely blindsided by Quinn's connection to Rowan?
So many questions, yet, so little answers.
Over to you, Scandal Fanatics!
What did you think of the episode?
Will Olivia get her comeuppance before long?
Sound off below.
Scandal continues next Thursday on ABC.
Get your first look at Olivia's reaction to being fired below: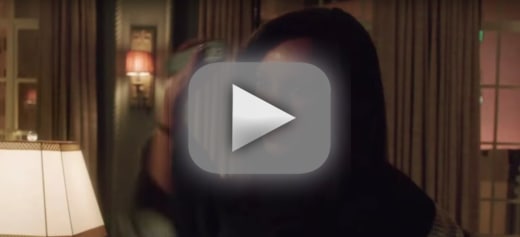 Paul Dailly is the Associate Editor for TV Fanatic. Follow him on Twitter.