Law & Order: SVU Season 20 Episode 5 Review: Accredo
Jack Ori at .
I've loved Rollins since she first joined SVU back in 2013.
So I'm thrilled that Law & Order: SVU Season 20 Episode 5 was a Rollins-centered story.
Rollins' pregnancy offered a ton of dramatic storyline possibilities for her, many of which were explored during the hour.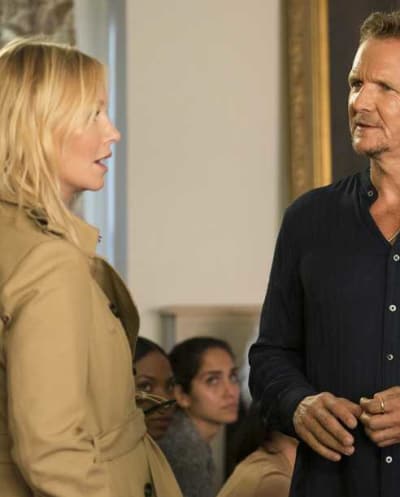 Rollins has been having a hard time accepting that she may need help because of her pregnancy. She has consistently felt demeaned because Benson, Carisi, and Fin are treating her as more fragile now that they know.
Her refusal to stay behind when Benson went to the site of a grisly murder was understandable, and so was her reaction to the brutality of the crime.
Related: Get True Crime Files by ID via Prime Video Channels for Over 1,000 Real-life Mystery & Suspense Shows!
Additionally, Beck kept asking a ton of creepy questions about Rollins' pregnancy and her feelings around it, and it seemed like she needed to get it together before he succeeded in manipulating her.
Considering that Rollins is both a rape survivor and has suffered a similar manipulation at the hands of her Gamblers Anonymous sponsor, sending her into a tailspin in the past, it's no wonder she was losing it when it came to Beck and his disturbing obsession with her vulnerability.
Rollins: Growing up, I had a TV in my room. Family Ties was my favorite. Alex P. I would turn the volume up as loud as I could to drown out the fighting and the screaming downstairs. We were not the Keatons.
Benson: No family is.
Rollins: My mom had this vase. He threw it at her and that was just before he beat the crap out of her. And I wasn't mad at him. I was so mad at her. How could she let him...? How?
I wasn't all that surprised she got violent with Gina, but I wasn't expecting her explanation for it.
Her blaming her mother for allowing the abuse rather than the man who abused her makes sense given the way she sometimes acts in the interrogation room.
It's interesting that she went into police work to protect victims and put away abusers, given her feelings about the domestic violence she witnessed as a child. I'd love to see this conflict explored further later, but I guess we'll have to wait until after the baby is born.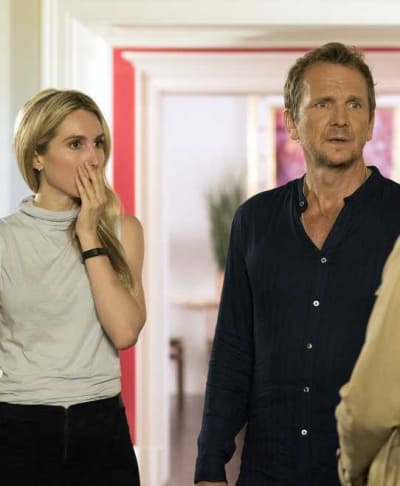 Beck certainly was a scary antagonist!
The way he zoomed in on Amanda's insecurities sent shivers up my spine, and it seems like he did that to every woman he met.
He had a nearly psychic ability to detect and identify his victims' psychological hot spots, making them feel more understood than they ever had before, and no guilt about using them for his own purposes.
Lilah's devotion to him drove her to commit murder and to consider taking the entire fall for it. That's how powerful his methods were.
I'd liked to have seen a more thorough investigation of what this cult did. Obviously, Beck was into some questionable practices since he branded the women and used their history of abuse to draw them closer to him, and he managed to get many of them to have sex with him.
But Rollins called him a trafficker as well as a con artist, and I wasn't sure to what she was referring. Maybe I missed something, but I didn't see him sell the girls or pimp them out in any way.
He took their money for his organization and then convinced them to have sex with him, which is all sorts of gross, but what else did he do, exactly?
Related: Get Shudder via Prime Video Channels for Spine-Tingling & Provocative Films, TV Series, & Originals!
I felt sorry for Gina, and I wanted to know what became of her.
She planted false evidence to frame Brad for murder, and she lost her husband thanks to Beck's manipulating her into sex with him, but she was also a victim, and I hoped she got the help she needed in addition to whatever deal she struck with the DA's office.
You two both had a tattoo, right? Under your arm. [Lifts witness' arm]. Looks more like a brand.

Rollins
And her brand led the cops to realize that they were dealing with a cult and that the murderer had cut off Vicki's brand.
I'm not sure what the reason for that was. I guess since Vicki "betrayed" Accredo, her membership got revoked in the most gruesome way possible.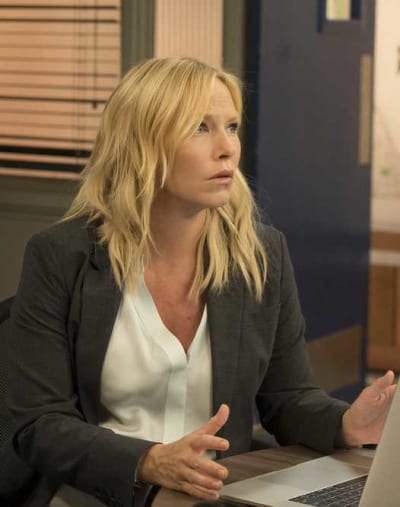 Anyway, Rollins was the hero in the end, getting that defense attorney who had fallen for Beck's charms to un-fall for them in time to stop him from fleeing the country.
That was a big deal for her, and I think that protecting another woman from a fate similar to Gina, Lilah, or Vicki's helped her realize the purpose of what she was doing as well as making her more willing to protect the baby she was carrying.
Carisi: Definite blood here. Bloody jeans too.
Fin: Guy would be off the hook if he would just do his laundry.
The funniest line of the hour went to Fin. I cracked up at his assessment of the alleged perp's stupidity. Of course, it turned out Brad was framed, but still.
Fin had no use for that idiot Brad, who thought he was superior to Vicki for some reason and who got himself in trouble in the first place by hacking her social media accounts and posting inappropriate photos to get revenge on her for breaking up with him.
Woman: It's not her! It's not Abby.
Benson: Okay, do you know who she is? Could she have been staying with her?
Man: Abby knows lots of needy people.
As usual, there were also some small moments that had nothing to do with the story but stole the show.
I felt for those poor parents who were led to believe their daughter was dead. Their relief upon seeing that the dead girl was not their missing child was tinged with grief for whoever this was and fear because they still had no clue why their daughter was not answering her phone.
Related: Get Great Selection of New & Classic Movies with the Lifetime Movie Club via Prime Video Channels!
The other notable moment, of course, was Benson's frustration with her son.
I could relate to that, as homework time with kids that age is never easy, though I wondered why Benson didn't tell Lucy or whoever else was watching Noah what his homework assignment was so that person could make sure he got it done.
And there should undoubtedly be consequences for him hanging up on her and not doing that homework beyond her complaining to Rollins about it.
In any case, it seems like whatever is going on with Noah is escalating.
It wasn't lost on me that Benson put off her promise to eat dessert with him to go to a crime scene and I suspect her lack of time at home is a big part of the problem here.
Your turn, SVU fanatics!
What did you think of "Accredo"?
Do you think Rollins will be able to stay on a desk until she delivers her baby?
Is Benson ever going to solve this problem with Noah?
Weigh in below, and don't forget you can watch Law & Order: SVU online if you missed anything!
Jack Ori is a senior staff writer for TV Fanatic. His debut young adult novel, Reinventing Hannah, is available on Amazon. Follow him on Twitter.