Legacies Season 1 Episode 3 Review: We're Being Punked, Pedro
Paul Dailly at .
If you're enrolled at the Salvatore School, you're probably safer traveling across the Atlantic Ocean and heading to Hogwarts.
Legacies Season 1 Episode 3 was another standout hour of this new CW drama series, which has successfully managed to bring the best components of The Vampire Diaries and The Originals to craft a rock-solid series.
After the fire-breathing witch turned into a fire-breathing dragon on Legacies Season 1 Episode 2, the villain of the week on "We're Being Punked, Pedro" was much tamer.
That's thanks in part to Lizzie doing the spell to keep it inside the walls of the school. Could you imagine the destruction it would have caused it made its way to the town square?
There's no way Matt could spin that one into something positive. The residents of Mystic Falls are far too oblivious for my liking, but there's going to come to a point they are in the know about what's going on, and I'm here for every single minute of it.
Related: Legacies Season 1 Episode 2 Review: Some People Just Want to Watch the World Burn
Despite Lizzie coming across as a bratty teenager, it's not difficult to look at all of this from her point of view. Her father has been helping a child who has absolutely no relation to him, and it's causing great strain on her family.
Hope's had a rough start in life, but Lizzie is insecure about the prospect that her father likes Hope more than her. Alaric knows Hope's parents, and that she has traits from both of them.
He also knows that this means Hope could just as quickly become her own worst enemy, and he wants to keep her on the right path.
But he could do a much better job of it so that his daughters don't feel like he's pushing them aside in favor the powerful young woman.
There was a lot of character development for Josie on this installment, and it was needed. If you watch Legacies online, you know that she's suffered from being in her sister's shadow for a little too long.
Lizzie: This makes no sense Dad. Why are we being punished?
Alaric: Because you started a brawl at a charity football game that risked exposing what we really do here.
Lizzie: Well, you weren't mad last night.
Alaric: I was mad last night. My undying love for my daughters just happened to trump my rage. I volunteered everyone on the game so stop complaining. Your lucky that it's just community service and not actual jail time.
Josie picking up the litter with Hope and everything that followed made it seem like a friendship was forming. It's about time.
It's just a shame it was all rendered useless after the fight with the gargoyle. Like Lizzie, Josie is worried that her father cares more about Hope's happiness than hers.
My heart broke for Hope when she thought everything was good between her and Josie, only to learn that they were back to square one.
Hope's very existence caused her family to die. For such a young girl, she's had so much loss and is struggling to keep on the path of light instead of darkness.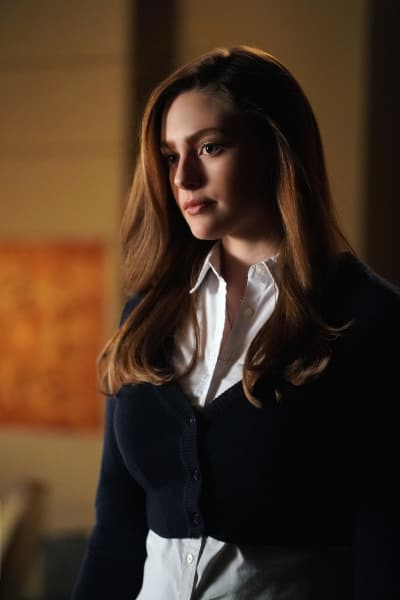 There's only so much one person can take before they flip the eff out, and I'm scared for Hope's wellbeing. She may be the most powerful person around, but she has feelings.
An ideal scenario would be to have her on good terms with the Saltzman twins because she needs some allies that don't despise her existence.
Thankfully, Rafael and Landon are back ... for now.
Related: Enjoy UNLIMITED access to thousands of Movies and TV shows with Amazon Prime Video. WATCH ANYWHERE. CANCEL ANYTIME!
It was apparent the duo was going to wind up back at the school, but I never anticipated just how action-packed their journey would be.
I rolled my eyes the moment they exploited Rafael's superhuman strength for money. With the social media savvy world of today, they both knew running up and down buildings was going to land them in hot water.
From almost getting themselves killed to arguing, it's clear they do not function well together when the pressure is turned up.
Knowing Steven R. McQueen was reprising his role of Jeremy Gilbert from The Vampire Diaries, and his association with the Salvatore School, I figured he would be the one to bring the boys back.
My main issue with this guest stint was that we never learned much about Jeremy's current situation, or what was going on with some of the other characters from the original series.
The handful of scenes Jeremy was in seemed like a mere marketing ploy to get viewers to watch, and I can't stand when shows pull stuff like that.
Alaric: Tell me what you know about Gargoyles.
Dorian: Did you say Gargoyles?
It remains to be seen whether Landon will be allowed to slum it out at the school, but with the compulsion not working on him, there are a lot of questions surrounding what he is.
Unless there's an industrial grade dose of Vervain growing in Mystic Falls, he can't possibly be a human, and that's going to cause problems between him and everyone around him.
How are you supposed to bond with someone when you don't know whether they're a villain?
As for the dagger, it was predictable that sending Dorian away was not going to stop the problems. Now that two students have been attacked at the gates of the school, Matt is going to want to get to the bottom of what's really going on.
Related: Legacies: Steven R McQueen to Reprise The Vampire Diaries Role
There's no telling whether Matt and Alaric are still in regular contact. If you used to watch The Vampire Diaries online, you know that Matt will do anything to keep everyone in the town safe ... even if it means turning against his supernatural friends.
The only theory I have for the dagger now is that Kai is pulling strings from the prison world Bonnie sent him to on The Vampire Diaries Season 8.
Given his link to the Saltzman twins, it would make sense for him to cause trouble for both them and the town.
Other tidbits from the episode:
MG continues to be one of the best characters, but his taste in women is not all that. The moment he learned the blond teenager was just using him should be a learning experience for him. He should try and get the woman he wants instead of trying to go for second best.
Karen David is killing it as Emma Tig, but I can't shake the notion that she's a villain in all of this.
I laughed out loud a little too much when Lizzie was unloading all of her baggage on Young Pedro who was freaked the hell out about the Gargoyle.
That's all I got, Legacies Fanatics!
Hit the comments with your take on the episode!
Legacies continues Thursdays on The CW!
Paul Dailly is the Associate Editor for TV Fanatic. Follow him on Twitter.