Proven Innocent Season 1 Episode 13 Review: In Defense of Madeline Scott, Part 2
Jack Ori at .
Madeline was acquitted, Ravi was unmasked, and Bellows resorted to murder.
Proven Innocent Season 1 Episode 13 resolved all unanswered questions and left us with a couple of final twists.
It was a fun, twist-filled ride, but now that Rosemary's death isn't hanging over everyone's head, is there anyplace left to go if Proven Innocent returns for a second season?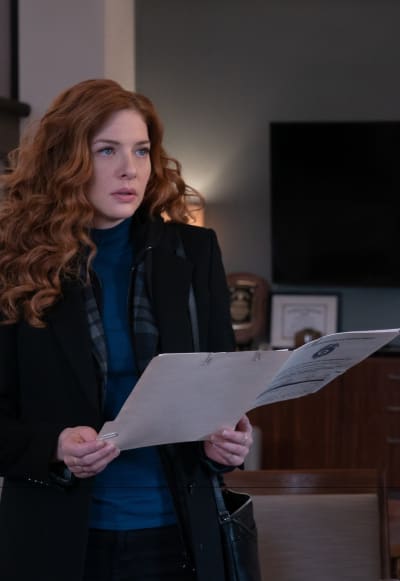 Let's start with the good news: Everyone should be lining up to grovel at Madeline's feet after the real killer got exposed.
One of the most powerful moments was when Heather came to Madeline's door to admit she had been wrong about her all along.
Heather: I really need to talk to you.
Madeline: About what?
Heather: I got one of those tapes too.
Heather didn't only admit she was wrong; she shared her grief over Rosemary's death with Madeline and offered to make amends for destroying Madeline's life.
It was too little too late -- Madeline correctly pointed out that witnesses can't switch sides midstream and expect to be trusted -- but it was an emotional moment.
Heather has been bullying Madeline and Levi throughout Proven Innocent Season 1. These two women aren't going to be friends any time soon, but at least their decades-old rivalry is dead.

Related: Proven Innocent Season 1 Episode 12 Review
My other favorite moment was Madeline's decision to forgive Bellows.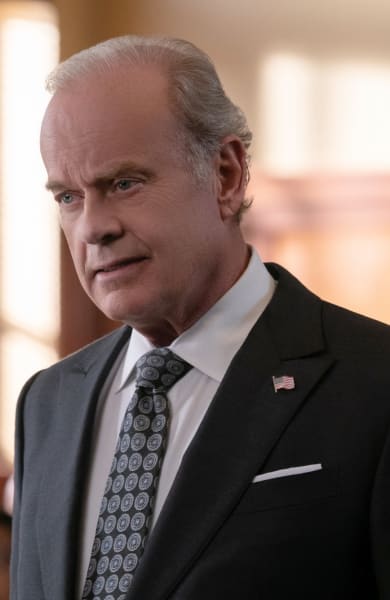 He was forced to swallow his pride when she won her case, and he then learned that Ravi was bankrolling his campaign.
But ultimately, it didn't matter. Madeline had done what Bellows never could: she'd let go of this case.
Madeline: I came here to tell you something, but I have a question for you first, and I'd like you to be honest with me.
Bellows: I always am.
Madeline: If you weren't running for Attorney General, would you have prosecuted me again?
Bellows: Yes. Now you said you came here to tell me something?
Madeline: I forgive you. All these years, I took it personally, but now I realize this is just who you are. You may have had a soul once, but it died with Rosemary.
Bellows continued to be a fascinating character throughout the hour. He was motivated by his desire for justice to fight to the bitter end to convict Madeline, yet I believe he was sincere when he said he liked her and thought she was a good person who got caught up in something bad.
I think maybe on some level Bellows hoped Madeline was innocent so he could continue to spar with her in court even though he believed in her guilt.
And his twisted belief in justice led him to throw Rick off a cliff, becoming a murderer himself so that he could punish Rosemary's killer without sacrificing his career.
What did everyone think of Rick turning out to be Ravi?
A commenter on the Proven Innocent Season 1 Episode 12 review called it. I hadn't thought of the possibility before that, but it started to feel more and more obvious as the hour continued.
Once Madeline met Rick, that sealed the deal. What other reason could there be for her to run into him?
Related: Get True Crime Files by ID via Prime Video Channels for Over 1,000 Real-life Mystery & Suspense Shows!
Bellows' final scene with Rick was suspenseful.
I thought that confronting Rick was a bad idea and thought Rick would attack Bellows.
Bellows throwing Rick off the cliff surprised me. It made sense in retrospect, though.
There was no other way to resolve this.
Bellows prosecuting the guy who bankrolled his campaign wouldn't be nearly as compelling a lead-in to Season 2 as this literal cliffhanger, and killing Rick then using his death for political gain was classic Bellows.
If Proven Innocent returns for a second season, Bellows and Madeline will swap roles, as now Maddie believes that Bellows is a murderer. And if it doesn't, we have a satisfying ending to Bellows' involvement in finding Rosemary's killer.
Easy: Man gives one speech and wins an election.
VIolet: American politics is a dark place.
I hope that the show is renewed because I want to see how this all plays out!
Levi's refusal to testify was a nice surprise and put a cap on his wishy-washy half-hatred of his sister. It was another twist that made perfect sense, considering that Levi was investigating the cult when he disappeared into protective custody.
Related: Proven Innocent Season 1 Episode 1 Review
The only loose end in this entire trial was Isabel.
Bellows betrayed her, firing her after promising her second chair because he thought her tie to Levi would ruin the case, and I was expecting her to turn on him.
Instead, she was just gone, not even mentioned.
That was disappointing, but if the series continues I have no doubt she'll be back. Rick's murder is too juicy a secret for it not to blow up in Bellows' face, and I'd bet almost anything Isabel will be part of that.
I'd love for Proven Innocent Season 2, if there is one, to focus on the criminal justice reform issues that made me fall in love with this show.
The side stories about Madeline and Bellows' rivalry and the overarching mystery were great, but criminal justice reform is one of my passions, and I loved seeing Proven Innocent expose serious problems in the current system.
But I'm rooting for Bellows' downfall, even though I love to hate him so much that I want him to rise victoriously to fight another day.
We're gonna keep eagle eyes on him. Second Danielle screws up, we'll take her back to court.

Bodie
I'm also interested in where this Bodie/Castro story might go.
I was never a Castro fan. She only ever wanted sexual hookups, not a real relationship. But the whole conflict over Nathan humanized her.
If we're going to have any more of Castro, her and Bodie dealing with Nathan's custody arrangements is far better than those obnoxious fake arrests to initiate sex that defined their relationship in the early days.
So what's your verdict, Proven Innocent fanatics?
Do you want a second season of Proven Innocent?
And was this a satisfying ending if the show doesn't return?
Watch Proven Innocent online and then hit the comments with your thoughts.
Jack Ori is a senior staff writer for TV Fanatic. His debut young adult novel, Reinventing Hannah, is available on Amazon. Follow him on Twitter.